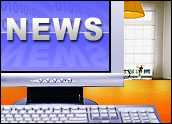 Pew Research Center's Project for Excellence in Journalism released a report on Monday detailing how people navigate the digital news environment. Based upon an in-depth study of detailed audience statistics from the Nielsen Company, the study examines the 25 most popular news sites in the U.S. and focuses on four main facets: how users get to sites; how long they stay; how deeply they navigate sites; and where they go afterward.
Pew's findings suggest that there are multiple groups of online news consumers, and each behaves differently. News sites develop specific strategies for serving each group.
Search aggregators continue to be the most popular way for users to find news, according to the report, but the selection of referring sites is diverse — and social media such as Facebook are growing to be a competing driver of traffic.
Google remains the primary entry point to the top news sites, accounting for 30 percent of the traffic directed to them. For five of the news sites, Facebook is the second- or third-most-popular driver of content.
For 21 of the 25 sites analyzed, the home page is the most viewed part of the site. This suggests that some of the traffic is coming from people searching for the specific site and not a particular news topic. This also suggests that going to check the main headlines is still an important factor in news.
Pew Research did not respond to the E-Commerce Times' request for comments by press time.
The Reader Hunt
In order to get a hearty amount of traffic, news sites may need to rethink their target markets.
"News sources need to consider if they're going to go with a focused or a multilayered strategy — do they go for casual users, power users, or everyone? — and make it work," Steven Savage, technology project manager and Geek 2.0 blogger, told the E-Commerce Times. "News companies will need to plan and evaluate like they never have before."
The Tablet Effect
Tablet users will increasingly install apps of their preferred publications and read them the way consumers used to read a morning paper, said Savage.
"You'll see a focused market develop. They will be less likely to surf around," he predicted. "Tablet use will likely increase online news consumption, since tablets can increase both regular and casual news consumption simply due to their availability."
Facebook's Role
Social networking — particularly on Facebook — has become increasingly important for news consumption.
"People respond to others, to those they know, and to communities — tThe news and information that comes out of them," noted Savage.
What's Ahead?
It is difficult to predict the future of online news with much clarity, but it will likely become a patchwork of delivery options.
"As you can see, many news companies are trying to keep up with the trends," said Savage. "There's so much change it's hard to know — but one thing I can say is that there will be changes, perhaps radical ones, needed to keep online news viable."
The future of news is the billion-dollar publishing question, according to Jim McGregor, chief technology strategist at In-Stat.
"They may get to it from multiple paths," McGregor told the E-Commerce Times, "and as the Pew report highlights, enabling as many paths as possible is critical.
Getting paid to deliver news may be the tricky part for media companies.
"Multiple paths will not make it any easier to monetize," said McGregor. "I don't think anyone has quite figured that one out yet."