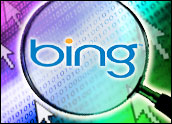 Microsoft CEO Steve Ballmer announced Tuesday that Bing will become the default search engine and mapping application on Research In Motion's BlackBerry platform.
Ballmer unveiled news of the team-up during an apparently unexpected appearance at the BlackBerry World conference, being held in Florida through Thursday. His speech wasn't on the list of featured keynotes in the conference agenda.
"I think it was very surprising that Ballmer himself came out to make the announcement instead of the vice president of Microsoft's Bing division," Al Hilwa, a program director at IDC, told the E-Commerce Times.
Microsoft's Elopement With RIM
Bing will be the preferred search provider in BlackBerry browsers, according to the Bing blog.
It will also be the default search engine and map application for new BlackBerry devices worldwide, as well as for the recently launched BlackBerry PlayBook tablet.
"Mobile is an increasingly important space," Stefan Weitz, Bing Director, told the E-Commerce Times. "Our mobile search strategy is focused on enabling customers to easily discover, access and use the information, answers and local content they need and want anytime and anywhere with the convenience of their mobile device."
Implementations of Bing Search will be tailored to the device, Weitz stated. The differences will be most obvious in client applications for search and maps as well as Bing-powered searches in the BlackBerry browser, he added.
Microsoft and Bing will market and promote their joint offerings together, Weitz said.
RIM declined to comment by press time because "many executives are at BlackBerry World and traveling this week," company representative Jamie Ernst told the E-Commerce Times.
Videos demonstrating Bing on a BlackBerry device are available here and here.
Battling the Googleplex
The tie-in with RIM might make sense for Microsoft.
"Microsoft's teaming up with RIM and Nokia to fight the war against Google," Maribel Lopez, principal analyst at Lopez Research, told the E-Commerce Times.
"It wants to win, or at least be Number Two, in the increasingly hot battle for mobile search," she added.
That battle is all about making money from online search and ads.
"Microsoft wants to have as much footprint as possible to have people access its search engines and access its maps, because that's how the business works," IDC's Hilwa pointed out. "It's all about the money."
It could also be about sheer survival.
"Microsoft recognizes it needs enough market share so advertisers treat it with some level of parity with Google, otherwise it can't compete," Rob Enderle, principal analyst at the Enderle Group, told the E-Commerce Times.
Although RIM is losing ground in the global smartphone market to the iPhone and Android devices, "it's still one of the largest players," Enderle said.
RIM's Slice of the Pie
So what would RIM get out of teaming up with Microsoft? Wouldn't it have made more sense for it to work with Google instead? After all, Google is the dominant online search engine and mobile ad player, and Bing's a poor second at best.
"There could be competitive issues involved," IDC's Hilwa suggested. "Perhaps RIM feels Google, with Android, is competing against it and it prefers to team up with someone like Microsoft, who's not a direct competitor."
Further, RIM is probably making quite a bit of money off the deal.
"Very likely there's money involved," Hilwa opined. "It's just like Google paying Mozilla for putting the Google bar on Firefox."
A Marriage Made in Heaven or Hell?
Could Microsoft's teaming up with RIM be a wedding of two also-rans, much like its venture with Nokia?
Not likely, IDC's Hilwa remarked.
"Bing is the second biggest search engine out there and Microsoft's online business is worth several billion dollars," Hilwa said.
"Also, RIM has a large number of handsets, and if it gets its device strategy in order and gets its PlayBook game in play, this might work out for Bing," he added.
"RIM provides one of the largest pools of seats that are out there tied to one vendor; Apple's the other, and Bing wants, and now has got, both of them," Enderle added. "Bing has been charged with displacing Google Search wherever possible and has been given a budget to do so."
The team-up between Bing and RIM is "a showcase of the new age of disruptive change in platforms," Hilwa suggested.
Could that disruptive change come back to bite Bing? Would making Bing the default search engine and map app on BlackBerry devices annoy users who prefer to use Google instead?
"A high percentage of users will use whatever's the default app on the phone," Enderle said.
Google did not respond to requests for comment by press time.