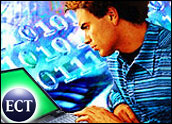 In a move to grab a larger share of consumer appliance sales, the world's largest home improvement retailer announced plans today to expand its store-based home appliance business to the Web.
Home Depot is launching a new online initiative that allows consumers to purchase more than 1,800 products, including leading-brand washers, dryers and refrigerators, directly from its recently enhanced Web site.
"This is a good move for Home Depot," Nielsen//Netratings senior retail analyst Heather Daugherty told the E-Commerce Times. "We've already seen retailers like Sears and Lowe's move into this space, in addition to a lot of smaller Web sites. Home Depot needed to take appliances online in order to compete effectively."
Newcomer with Trusted Name
Home Depot is a relative newcomer in the home appliance market. The company began to roll out appliance showrooms in its stores in September 2001. Since that time, Home Depot has steadily increased its share of the market and today ranks third in sales. In the third quarter of 2004, the company reported that its core market share of appliances increased 40 percent over the same period a year ago.
Should Home Depot's entrance into online appliance sales make competitors nervous? You bet, Daugherty said. She expects Home Depot to make a splash in the marketplace with its well-known brand and thousands of store locations across the country.
"It made sense for Home Depot to take a wait-and-see approach in this category," she said. "But there's definitely success stories in the online appliance space. As consumers become more comfortable purchasing online, they are also willing to make larger purchases online."
Competitive Advantage
Appliances sold at Home Depot online have the same price as those purchased in the store, the company said. However, on its Web site, Home Depot advertises free delivery for appliances over US$299. That is a competitive advantage over Sears and Lowe's. Sears' Web site said it charges "$45 per trip to most areas, regardless of the number of items." Lowe's charges $55 for store delivery on appliances.
"Free delivery is a huge savings," Daugherty said. "Shipping appliances cost a lot more than shipping a book. Home Depot's free delivery will put pressure on the competitors to follow suit. It will create a remarkable savings for customers."
High Level of Service
When customers place orders online, a Home Depot associate will telephone them to arrange delivery, as well as to confirm availability, required parts, installation charges, optional extended service plan coverage and local sales tax.
If a customer chooses to return or cancel an appliance order, he or she can contact Home Depot through a toll-free number, and a customer service representative will be assigned.
"Home Depot made sure to announce that the minute a customer orders the appliance, someone will call them and promptly make a delivery," Daugherty said. "The company's high-levels of service will definitely help them compete."
Enhanced Searching
Home Depot recently enhanced its search tools so customers can quickly and easily refine their search for appliances with the product attributes and features that are most important to them. Detailed product information and a new product comparison tool help customers narrow their choices and identify key product differences. Like all products on homedepot.com, appliances can be saved into an online wish list.
Daugherty said enhanced search is one of the many significant improvements Home Depot made to its Web site over the past year. Those enhancements paid off in the holiday shopping season, according to Nielsen//Netratings, which reported week over week growth in site traffic.
"If someone goes on to a retailer's Web site and can't locate the products or easily compare and gather information, then they know they can do it somewhere else," Daugherty said. "Customers expect these features at this point. The improvements will be good for Home Depot."