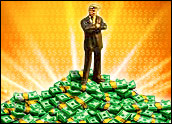 With sales up more than 20 percent, more e-commerce outlets than ever before and relatively few high-profile snafus compared to previous years, the holiday season of 2006 might be seen as an unqualified success.
A closer look, however, reveals both winners and losers in what was a blockbuster holiday shopping season overall. Some winners went with the bread-and-butter approach: Providing top-notch customer service and making sure their Web sites were always up and running when customers came calling.
Promotions and Preparation
Others found their way into the winners column by heavily promoting new services, while the losers by and large are those retailers who seemed unprepared for the rush of customers who beat a path to their Web sites.
"The leaders are really working hard to remain the leaders," said Larry Freed, president and CEO of ForeSee Results.
ForeSee found that overall, the 40 largest online retailers improved their customer satisfaction levels, but with a wide range of satisfaction rates even among those sizable retailers.
Sites made themselves winners by doing a little extra, Kelly O'Neill, product marketing director of e-commerce software maker ATG, told the E-Commerce Times.
"Clearly, 2006 saw the rise in Web retailers using personalization to merchandise smarter to their customers — specifically by aligning merchandising efforts with the functionality of their Web sites, so that consumers are not just marketed what a retailer wants to sell, " O'Neil said.
In the end, the good news for all is that a single holiday season isn't a make-or-break proposition. Still, in a world where customers have so many choices, the stakes are higher than ever.
Rich Get Richer
Overall, e-commerce has to be considered a winner. It generated 26 percent sales growth year-over-year while the overall retail world posted far more modest sales gains or even flat growth in some cases.
While December same-store sales from Wal-Mart, Target (NYSE: TGT) and Gap (NYSE: GPS) disappointed investors, comScore reported that total online sales grew to US$24.6 billion during the last two months of 2006, a 26 percent increase over the same period in 2005. The holiday surge was enough to push total e-commerce sales for the year to more than $100 billion for the first time.
Still, in terms of keeping customers happy, there were standouts. According to ForeSee, customer satisfaction leaders included Netflix, Amazon.com, LLBean.com and Apple.com.
"The top eight retailers from last season either maintained or improved," noted Freed. "They aren't resting on their laurels or giving other retailers a chance to erode their customer base."
Foresee did find laggards as well. Bottom scorers on its satisfaction index included CompUSA.com, Costco.com and CDW.com.
"Not only do those companies trail the pack in satisfaction, they also trail in key future behavior measures, such as likelihood to purchase online and recommend to others," Freed explained, suggesting the low-scorers could suffer beyond the holiday season, but also offering plenty of room for improvement. "What sits in front of these retailers is the opportunity to make great strides forward in satisfying their customers."
Big Winners, Small Winners
With eBay Stores, Shopster, Yahoo and a host of other options giving millions of small merchants access to the e-commerce gold mine, the growing sales pie is being divided up into more pieces than ever.
Some small merchants reported especially strong holiday seasons, as their niche approaches to retailing established them as experts in certain products or as the go-to site for hard-to-find merchandise.
Winners came in all sizes, however, and Stephen Foster, director of competitive research for Keynote Systems, said increasing loyalty to online brands means that in some categories, new competitors will find it hard to wrestle customers away from established players.
"Online brand preferences are hardening as consumers become more loyal and increasingly accustomed to the design and organization of their preferred sites," Foster declared. "In mature Internet markets, we are starting to see the same types of consumer brand loyalty you would see in the offline world. It will become increasingly challenging to steal customers from other leading brands, and increasingly challenging to usurp the leader in a market."
Lots to Like
Some sites were dinged by slowdowns and even crashes. Overstock.com found its site unavailable to some shoppers after a discount offer midway through the shopping season drew a larger-than-expected response. Walmart.com also had its Web site bogged down by traffic spikes caused by exclusive online-only discounts it promoted in its stores and in circulars.
Those sites were able to recover quickly enough to avoid long-term damage to their sales or reputations, however.
By many accounts, one of the big e-commerce winners may have been a company that doesn't directly engage in e-commerce. Google Checkout, driven by heavy promotions and discounts to both shoppers and merchants — Google recently said it would waive all merchant fees through the end of 2007 — moved aggressively onto PayPal's turf in the quarter.
Google reportedly could spend $20 million to underwrite the Checkout promotion, money that Google believes will be well-spent if Checkout helps drive more advertising revenue in the long run.
In fact, alternative payment approaches as a whole were a winner in the holiday season, with Bill Me Later and Checkout representing a new group of services that are aimed at giving consumers a higher level of confidence in their online shopping experience amid rising concern about identity theft and Web security.
The real test of online retailers' performance will come later this month and in February, when fourth quarter earnings reports from eBay, Amazon, Overstock and others are released.
Those reports should provide insight on not only who sold the most gifts, but whether they managed to stay profitable while doing so — and that, as it has been throughout the history of e-commerce — is the ultimate test of winners and losers.