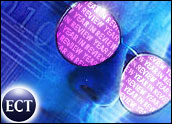 In strict chronological terms, e-commerce is still a young adult, but by all accounts it has rapidly matured into an economic force, accounting for billions in online sales and helping consumers make decisions on billions more in offline buying.
Still, e-commerce continues to grow by any measure. Not just in terms of total sales — Forrester Research said sales will likely top US$200 billion this year, just three years after passing the $100 billion level for the first time — but in terms of the number of merchants selling goods online, and in how tightly e-commerce is now integrated into the rest of the retail world.
"By encouraging different channels to work together, instead of in isolation, everybody wins," said Scott Silverman, Executive Director of Shop.org, the online arm of the National Retail Federation. "Retailers have been focusing on integrating their Web sites and stores to better serve their customers, which is paying off for companies in the form of higher sales."
In 2006, the old was new again. In a reminder of dot-com days gone by, Amazon.com started a grocery business — though it has limited its selection to non-perishable items that can be shipped in the mail.
Then again, some old relationships broke up. The biggest split of the year came when Toys 'R' Us and Amazon went their separate ways, ending a relationship that began in early 2000.
New players wanted in as well. Google's first significant e-commerce foray, Google Checkout, launched mid-year and was already having an impact on the holiday season.
In all, the year provided more of what e-commerce has come to expect — growth — with plenty of twists thrown in along the way.
Stuck on Free
Free shipping remains the habit that e-commerce can't break. Consumers, meanwhile, are growing increasingly addicted to free shipping themselves, a condition some say e-tailers brought upon themselves.
While there's been some efforts to wean consumers slowly, the most notable example being Amazon's effort to get shoppers to pay for the free shipping privilege in advance — few sites have gone cold turkey. Even PC retailers resorted to free shipping offers again in the holiday rush.
In fact, a study by online marketing firm eROI found that free shipping offers are the discount most likely to entice consumers to open and respond to commercial e-mail messages.
Meanwhile, a separate study, the Consumer Internet Barometer, found that free shipping is becoming an expected benefit of buying online.
"Free shipping was something e-tailers felt they needed to compete when e-commerce was still gaining a foothold in the retail world," said Forrester Research analyst Carrie Johnson. "The longer they remain in place, the harder they are going to be for consumers to give up."
Free shipping can mean the difference between closing a sale and losing a shopper to a competitor, Shopster CEO Sarath Samarasekera, whose firm helps scores of merchants operate e-commerce sites, told the E-Commerce Times.
"On the Web, a competitor is always just a click away and if one merchant has free shipping and another doesn't, it becomes a huge competitive advantage," he explained.
Shop Here, Buy There?
Retailers love e-commerce in part because it lends itself to tracking and analysis. A savvy e-tailer can tell you how shoppers arrive at their site, what they do once they get there and even how many clicks it takes them to complete their purchases.
Increasingly, though, online shopping is serving merely as a precursor to actual buying taking place offline. That's especially true of big-ticket items and those that aren't easily and affordably shipped, but may be true of more areas of e-commerce than many suspect.
Research firm Think Partnership estimated that during the first week of December, 74 percent of shoppers left Web sites without completing a purchase, abandoning an average of $57 worth of items in their carts on the way out the virtual door.
"Online retailers are constantly striving to increase their conversion rates, and shoppers browsing and comparison shopping with every intention of buying offline only complicate that issue," said Forrester's Johnson.
Another Giant Heard From
During 2006, auction site eBay made its most aggressive bid yet to become a major player in the fixed-price e-commerce world, launching eBay Express as a faster alternative to its auction listings.
Later in the year, Google Checkout launched and with heavy discounts from many retailers, the alternative online payment option was quickly gaining steam. The result, is a three-way collision course bringing Amazon, eBay and Google toward the same part of the online market.
While eBay hasn't broken down sales from eBay Express, there are reports the effort hasn't achieved the types of results the company had hoped for. By comparison, Google Checkout — a direct competitor to eBay's PayPal — has helped boost online sales at many of the e-commerce sites that had adopted it.
Ritz Interactive, which sells cameras and accessories at various dot-com addresses, said a discount promotion involving Checkout helped sales increase 40 percent year-over-year.
How much traction Checkout gains in 2007 will be something to watch, as will the success of eBay's Express, a key part of that company's efforts to sustain its historically high growth rates.
Blasts From the Past
The end of 2006 brought another surge in online shopping, with the holiday season off to a fast start and predictions for a record-shattering sales period.
The crush of shoppers also brought a reminder that e-commerce still has growing up to do.
Major e-commerce sites such as Costco.com, WalMart.com and Amazon.com all saw slowdowns in Web site operation or outright crashes.
The Overstock.com Web site was briefly out when it was slammed with visitors seeking its special offer on the "Pirates of the Caribbean: Dead Man's Chest" movie. The Wal-Mart site was reportedly down for as long as two hours after advertising online-only specials on Black Friday.
While the frustration may seem fleeting, the damage can be lasting.
"Online shoppers have exceedingly high expectations this holiday season, and they are an unforgiving crowd," said William Agush, vice president of marketing at Web site performance monitoring firm Gomez. "It appears that ensuring a quality online experience trumps brand loyalty, and even savings."
It's likely that e-commerce companies will be in line to do some shopping of their own in early 2007, buying servers to beef up their Web-based infrastructure. In other words, to grow, and grow up, just a bit more.
2006 in Review, Part 1: Mapping the New Media Landscape
2006 in Review, Part 2: Search Wars Raged, Did Anything Change?
2006 in Review, Part 3: Corporate Governance Returns – With a Vengeance