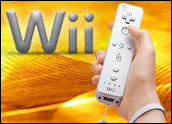 The Wii once again took the top spot in console sales, according to January figures released by NPD Thursday.
The Nintendo console sold some 274,000 units in the U.S. last month. Sony's PlayStation 3 (PS3) had another month of strong sales, ringing up 269,000 units to beat out Microsoft's Xbox 360, which sold 230,000.
State of the Industry
Total industry sales for the month of January declined 6 percent over the year-ago period to US$1.18 billion. That, however, isn't a perfect apples-to-apples comparison, as NPD's January totals were based on four weeks of sales rather than five weeks for January 2007. Looking at the figures on a weekly basis, sales in January 2008 actually increased 18 percent over the previous year — $294.8 million versus $250.5 million.
Sales of video game software, driven by Activision's "Call of Duty 4: Modern Warfare" for the Xbox 360, grew 11 percent to $610.6 million in January. Gamers picked up just under 331,000 copies. "Wii Play with Remote" sold some 298,000 units to take the No. 2 ranking; Activision's "Guitar Hero III: Legends of Rock" for the Wii came in third after unit sales of 239,600.
The picture, however, was not as cheery for the hardware side, where sales declined compared to the January 2007 from $504.6 million to $377.8 million, a drop of 25 percent. Sales of accessories took a small slide, decreasing 4 percent from $198.3 million to $191 million.
January's sales results follow an earlier report from NPD that found video game and PC game sales reached more than $18.8 billion dollars, a 43 percent increase over 2006.
Not Gloomy
Despite the declines in hardware and accessory sales in January, Yankee Group analyst Mike Goodman said 2008 should be another good year for the industry.
"Hardware revenue will decline slightly because you're going to get across-the-board price cuts, but software revenue is going to be very strong because you'll have a continuing-to-grow installed base of consoles. And you have some strong titles coming out. You have "Metal Gear Solid" for the PS3 and "Grand Theft Auto IV." There are some blockbusters hitting the market," he told the E-Commerce Times.
"You're in the segment of the market now where it is software-driven. The hype around the consoles themselves has died down, and the early adopters have bought what they're going to be. You are now in the mainstream portion of the market, and they are going to buy a PS3 based on what titles are coming out on that console. We're entering the part of the market where the hardware is now secondary and the software is primary."
Wii Still Strong, Getting Stronger
News that Nintendo scored another win in monthly sales seemed to validate a prediction from iSuppli analyst Pam Tufegdzic, which forecast the Wii will reign supreme in 2008, ending the year with a larger installed base than the Xbox 360. Tufegdzic attributes the Wii's success to its "strong appeal to casual gamers."
By the end of 2008, the Wii will have an installed base of 30.2 million units, nearly doubling its base of 18 million units at the close of 2007, according to iSuppli.
"The Wii's performance illustrates the success of Nintendo's strategy of targeting casual users with an inexpensive console and entertaining titles, rather than addressing hardcore gamers by offering highly sophisticated and spectacular titles and systems," she said.
"In this stage of the new-generation video game console market, consumers are showing they'd rather be entertained and pay less for their consoles than shell out more for the latest and greatest technology," Tufegdzic continued.
Meeting in Price
Although Goodman does not think the Wii's installed base will double, he agreed that the console will remain on top and most likely surpass the Xbox 360 in terms of total numbers of consoles sold by the end of the year.
"Globally, they are the top-selling console. They'll retain that spot for another year or two. I don't think [Wii] sales will accelerate, not by about 10 to 15 percent more than they sold last year. I don't see that happening," he stated.
"Can it overtake Microsoft? That's entirely possible. I would tend to agree that it will overtake Microsoft, but it will be nip and tuck. Number one, Microsoft is not helping itself by having a supply shortage in the first quarter. Number two, I don't know what they're anticipating the price cut will be for Microsoft," Goodman added.
The Wii's success, however will vary by market and price, according to Goodman.
"If Sony gets aggressive and does another $100 price cut, that will take a lot of steam out of Nintendo's sales. There are a heck of a lot of Sony customers sitting on the sidelines waiting for the price to come down. My expectation for Sony will be that their next price cut will bring the PS3 down to $299 on the low end," he explained.
Xbox Slows
Microsoft fumbled in manufacturing, working itself into a shortage that hurt the company's January Xbox sales. The company under-forecast demand in December, which forced them to accelerate console shipments and deplete stockpiles they'd been holding for January and February, Goodman said.
"There's a price to pay for that. At a certain point you run out a month or two down the road. That's exactly the case Microsoft is running into. It's about a two-month time lag before supply can catch up with demand. March or April is when you'll begin to see the supply crunch begin to be rectified," he said.
Microsoft has to have the supply issue corrected by the time "Grand Theft Auto IV" comes out in April, Goodman stated. "'GTA IV' for the 360 is more comprehensive, and given the popularity of 'GTA,' that will lift unit sales [for the Xbox]. But that is predicated upon there being a sufficient supply of 360s in the marketplace. If they've still got manufacturing issues in April, now all of a sudden you've gone from a headache to an Excedrin No. 10 headache."
PS3 Grows
Sony's PlayStation 3 made a positive showing in January; however, Goodman said the company's numbers were not a result of Microsoft's supply missteps.
The continuing uptick in sales for the PS3 in recent months, including the 797,600 sold during the five-week holiday season, also seems to bear out Tufegdzic's expectation that by 2011, the PS3 will have an installed base of 38.4 million, a 39 percent increase from 10.3 million in 2007.
That would make the PS3 the leading console, followed by the Wii and the Xbox 360 with 32.3 million.
"The Sony numbers are a little on the high side. They are definitely high on the Wii side and probably right on the Microsoft side," Goodman concluded.