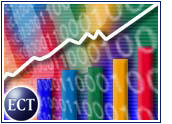 GoTo.com (Nasdaq: GOTO) rose to US$11 in morning trading Wednesday, up 44 cents, after the Internet search service reported a 60 percent revenue increase for the fourth quarter ended December 31st.
GoTo said it had $55 million in cash and liquid investments at the end of the quarter, and less than $1 million in debt.
"We intend to leverage our leadership position in the coming year both to increase revenues in a difficult advertising environment and to reach our stated goal of breakeven in the fourth quarter," GoTo president and chief executive officer Ted Meisel said.
The company attributed the revenue gain to a doubling in the number of paid introductions of consumers to advertisers in the fourth quarter, to 228 million. Advertisers paid the company an average of 17 cents for each introduction, the same as in the year-earlier quarter but down from 21 cents in the third quarter.
GoTo revenue rose from $13.3 million in the year-earlier quarter to $39.8 million in Q4 2000. However, the company reported a fourth-quarter loss before charges of $16.8 million, or 34 cents per share, compared with a loss of $7.2 million, or 17 cents, in the year-earlier quarter.
GoTo posted a net loss of $361.69 million, or $7.27 per share, compared with a loss of $7.24 million, or 17 cents. The results from the latest quarter included a $309.3 million write-off for the company's acquisitions of Cadabra and AuctionRover.com.
"We had a fantastic quarter to top off a breakthrough year," said Meisel. "Our revenue growth is the result of establishing pay-for-performance search as a standard — the best way for Web sites to improve search as well as optimize revenue."
GoTo said that it expects a loss in 2001, before acquisition-related charges, of $39 million, with a first-quarter loss of $16 million.