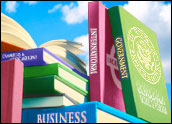 Google is about to go head-to-head with Amazon and Apple as it readies an e-book store that will debut before the end of the year. Named "Google Editions," the service will be an outgrowth of its Google Books project that allows users to browse and preview titles.
The news surfaced on the Google Books site this week in a post that notes Google is signing up U.S. publishers and retailers now. Google Editions will extend beyond the United States in the first quarter of 2011.
Google's current service points buyers to stores such as Amazon — but soon, users will be able to buy e-books directly from Google, downloading them to a variety of platforms, including smartphones.
Google Editions will involve independent retailers as well as publishers, though it's not clear how revenue-sharing will work with retailers. According to the Google Books site, books will also be available on "supported partner devices." It's not clear, however, what that means or whether it could include Amazon's Kindle.
Google initially announced the program last May and planned for a summer launch. That date was pushed back as Google sorted through legal and rights issues. Those issues are solved, company officials have indicated, and Google is ready to start selling e-books in the next three or four weeks.
Kindle Losing Market Share
Amazon's Kindle reader held nearly 70 percent of the e-book market at the beginning of 2010. As of last month, the Kindle owned just 47 percent of the e-book market, with Apple's iPad grabbing 32 percent, according to ChangeWave Research.
Google's entry will shake up the market even more, especially if Google launches a reader to go along with the Google Editions service.
More Questions Than Answers
There are plenty of questions hanging in the air over Google Editions.
"There are key elements that need answering,"