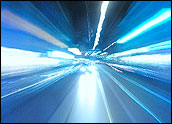 Google has put off making a choice on which city to use as a test for ultra high-speed broadband, according to a Wednesday blog post by Milo Medin, vice president of access services.
The company had planned to announce the selected city by the end of 2010, but it was not prepared for the level of interest from communities vying to be part of the experiment, said Medin, who was appointed just last week.
"Nearly 1,100 communities across the country responded to our announcement — and exceeded our expectations," he noted, adding that the selection will come in early 2011.
Bullet Train for the Internet
Google's idea is to create a fiber network that will deliver Internet speeds more than 100 times faster than what most Americans experience today. The goal is to connect 50,000 to 500,000 homes in a community with 1 gigabit per second fiber connections at a competitive price.
An ultra-fast network would allow the transfer and sharing of three-dimensional medical imaging or the downloading of a full-length feature film in less than five minutes.
Google has urged the Federal Communications Commission to look into creative ways to build out fiber networks in the commission's National Broadband Plan. In the meantime, it decided to wire a community itself.
Running a Test for Coming Apps
Google wants to test a new generation of apps that are currently not being developed because the U.S. Web infrastructure is too slow. It also wants to demonstrate a city-wide network to support other community deployments.
This is not Google going into the ISP business. The company intends to create an "open access" network with multiple service providers.
Google is already experimenting with new fiber deployment technologies in its own backyard. The company is running a beta network of 850 homes at Stanford.
Ramping to Tomorrowland
The lucky city will get to play in the Internet future — largely on Google's nickel.
"We are unsure how much Google will ultimately foot for the bill, but even just having Google's expertise gives the city in question valuable new infrastructure," technology project manager and Geek 2.0 blogger Steven Savage told the E-Commerce Times.
The chosen community will become a star — and that star will have a new employer in town.
"The city gets publicity," Savage said. "Just being one of Google's test cities will raise the profile of that city — which means business, more investment and better retention. It gets the hope of more Google investment, as well as investment from similar companies. It gets jobs — the work on the network and the work that network may bring."
Google Will Get a Test Market
The list of coming apps that could run on a jet-plane network is long and deep.
"The residents of the lucky city will get to fly on the Internet, and take advantage of many broadband applications and services that are currently not available to most Americans," Azita Arvani, principal of the Arvani Group, told the E-Commerce Times. "These will include high-bandwidth applications like multiple video channels, real-time video conferencing, multiplayer 3D graphic-intensive gaming, and easy sharing of very large files, like medical images."
A super slow Internet, by today's standards, changed the world; imagine what the Web can do on steroids.
"That kind of super-fast connection to the Internet will change the way residents live, work and play," said Arvani.
While the city will clearly get benefits, Google will be able to stake claim — all by itself — to some real estate in future-world.
"With this project, Google will get a chance to experiment with all kinds of cloud services when speed is no object," said Arvani. "Google will get invaluable insights into how people will use Google's existing, emerging and future services. The more people get on the Internet, the more Google's cash register will ka-ching."