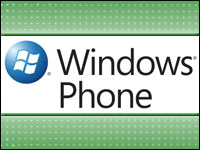 Microsoft unveiled a series of Windows Phone 7 handsets on Monday that will offer a range of features and services, including a version of the AT&T's U-verse, that are designed to help Microsoft make up the ground it has lost in the mobile space in recent years.
While Microsoft struggled to develop a winning mobile platform, Apple captured market leadership with the iPhone. Google then became a major player in the space as mobile carriers, application developers and consumers embraced its Android operating system.
Video, gaming and other consumer-oriented content will be available on Windows Phone 7 devices, which Microsoft initially will be offering through AT&T and T-Mobile.
Xbox Connection
Microsoft and AT&T also announced that U-verse TV will become available this week on Xbox 360 for U-verse customers.
At&T's U-verse uses fiber-optic technology and computer networking to provide subscribers with digital TV, high-speed Internet and digital home phone service. It is delivered through Internet Protocol Television (IPTV).
The Xbox will function as a U-verse receiver, letting users exchange chat and game invitations through Xbox Live while watching live TV. They'll be able to toggle from game to TV mode without switching video inputs on their TV screens.
U-verse via the Xbox 360 will offer virtually the same TV experience, said AT&T, without the need for an extra box or the monthly rental fee that goes with it. Subscribers will be able to watch live TV; manage and play back DVR recordings; and access apps, the program guide, and the on-demand library — all on the Xbox.
U-verse for All
U-verse is gaining traction among consumers, and it could prove popular among mobile device users, Yankee Group analyst Dmitriy Molchanov told the E-Commerce Times. The problem for Microsoft is that it won't have exclusive rights to the mobile version of U-verse.
A U-verse mobile app is already available for iPhone users, but only if they are also U-verse subscribers. The app lets them watch TV shows at no extra charge and provides other functionality such as the ability to browse the U-verse TV program guide, view program descriptions, and schedule and manage their DVR recordings.
Windows Phone 7 users who are not U-verse subscribers will be able to get mobile U-verse service by simply paying US$9.99 per month. They'll be able to browse or search a library of TV shows and select a specific episode or series to download and view over a WiFi connection.
Windows Phone 7 users will not have access to the same amount of content as full U-verse subscribers, however, and that could be a problem for Microsoft, according to Dan Rayburn, a principal analyst with Frost & Sullivan.
"We really don't know if this service will help Microsoft in the mobile space because they haven't said exactly what type of content will be offered," Rayburn told the E-Commerce Times. "Is it live content, is it on-demand? The real question is whether it's content that's worth paying $10 a month for. If it's stuff that I can get over the Internet for free, why would I pay for it just because it's now available on my phone?"
New Devices on Tap
Nine new WinPho 7 handsets will be available this holiday season from mobile operators in the United States, Canada, Europe and the Asia-Pacific region. The devices are being manufactured by Dell, TC, LG and Samsung.
In the U.S., AT&T is set to offer three devices — each designed to appeal to users seeking the optimum gaming and video viewing experiences.
The Samsung Focus is the thinnest of the three devices, offering a touchscreen that will make photos, games and video come alive, according to Ralph de la Vega, president and CEO of AT&T Mobility.
The LG Quantum contains a slide-out keyboard making it convenient for users to work with mobile office applications, de la Vega added.
The third phone, the HTC Surround, includes integrated Dolby Mobile and SRS surround sound speakers that slide out for placement on a kick stand to enhance the viewing of video on its 3.8-inch touch screen.
T-Mobile USA will offer the HTC HD7 and Dell Venue Pro.
Not Game Changers
There's a fair amount of skepticism that these devices — or the services that AT&T and Microsoft are touting — will significantly alter the dynamics in the mobile phone space.
"I'm not yet convinced that Windows 7 devices are game changers," said Molchanov.
"For Microsoft, unfortunately, U-Verse Mobile simply doesn't offer enough differentiation from other smartphones already on the market," he said, "given other, similar applications like Netflix and Hulu Plus."