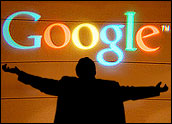 Google said it would release another 5.3 million shares of its stock for public sale, claiming it wanted to be ready to meet higher demand for its shares as it enters the Standard & Poor's 500 index and in the process raise additional cash for "general corporate purposes."
The move, which will reap Google about US$2 billion at current prices, immediately sparked speculation of a possible acquisition or other move.
Google said in its filing with the Securities and Exchange Commission (SEC) that it would dedicate the cash for "general corporate purposes, including working capital and possible acquisitions of complimentary businesses, technologies and other assets."
"We have no current agreements or commitments with respect to any material acquisitions," Google said.
Google shares sank on the news, falling more than 2 percent, or $8, to $386.80. That drop came after the stock surged higher when Google released details of its pact with America Online, a long-term advertising and content deal first announced several months ago, and said it had reached a deal with Verizon to provide ads for its online directory.
Google stock had climbed some 6 percent over the past week, following the announcement by Standard & Poor's that Google shares would be included in its closely watched S&P 500 index. That move will likely spark buying in Google stock because many mutual and index funds are required to hold a certain amount of each issue listed in the index.
Too Much Cash?
Some analysts were surprised that Google would move to increase its cash reserves at this time, since it already has close to $8 billion on hand, including some $4 billion raised through its IPO in mid-2004. If it were on the acquisition trail, meanwhile, it could use its own stock as valuable currency in any deal.
"We are surprised by this news," S&P analyst Scott Kessler said in a research note. He noted that Google had $1.6 billion in free cash flow last year, meaning it could generate the same windfall from operations alone this year. "Nonetheless, we would not be surprised if Google traded higher leading up to its inclusion in the S&P 500."
Speculation is already running high that Google is eyeing the purchase of Facebook, the hugely popular college-focused social networking site that is said to be up for sale and which could help Google fend off a challenge from News Corp.'s MySpace.com.
Bear Stearns analyst Robert Peck said another area of investment may be overseas companies, especially those in Asia, or in areas such as additional build-out of broadband and WiFi networks or to support distribution of its Web tools through PC makers. "We believe that there may be more than meets the eye for Google's use of funds," Peck said.
Clearly, Google has plenty it could spend the money on, as it races to keep ahead of rivals such as Yahoo, Microsoft and the recently revamped and re-launched Ask.com. It likely has numerous projects in development behind the scenes, with Web sites reporting this week that the company has begun to seek job applications for the position of Interactive TV Product Manager.
Slowing the Coaster
Other analysts, meanwhile, noted that the additional shares could help reduce the volatility of Google's stock price, which has been on a rollercoaster ride for much of 2006, taking abrupt and steep drops at times, such as when the company's CFO made comments about slowing growth and when Google inadvertently posted forward-looking financial figures.
Google shares hit a high of $471 on Jan. 11 and have fallen sharply since, losing as much as 28 percent at one point.
Google's relatively small float — and the fact that founders Sergey Brin and Larry Page and CEO Eric Schmidt own the lion's share of the company still — help contribute to stock price volatility.