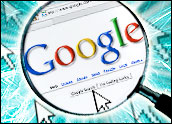 Google has launched a beta version of a financial news and information site, creating a destination for investors and others that will target Webportal rivalYahoo, whose own finance site is one of the most heavily used on the Internet.
Google Finance is an improvement over existing options, Google said, because lets users find financial data on a company or mutual fund without requiring them to enter the trading ticker symbol. They can also manipulate charts, scan news headlines — culled from Google News — and access other information.
More Than Just Quotes
The site will also feature bloggers' comments and discussion boards meant to foster a sense of community around financial topics and companies.
Google announced the launch through a post on its official blog. The project began as a side job for engineers in Bangalore, India, and soon grew to include others based in New York and at Google headquarters in Mountain View, Calif., according to Google Finance team members AC Narendran and Katie Jacobs Stanton.
"We have different backgrounds, work in different time zones, and, at the start of this project, had never met in person," they wrote. "But we shared the same goal: to improve the search experience for financial information. We hope Google Finance lives up to that aim by offering a fresh perspective on company-related searches."
Previously, some of Google's Web products relied on financial information from rival Yahoo. For instance, users who tracked stocks with the Google Sidebar were shown Yahoo Finance data when they clicked on a stock ticker for more information.
Into the Refinery
The finance site is "an early beta-stage product," Google emphasized, and will be expanded and improved upon over time, based on user feedback.
For now, the Google and Yahoo sites are a study in contrasts. Both provide the same basic interface, with a space to enter a ticker symbol or company name, and both feature current snapshots of the major U.S. stock markets.
The Yahoo page is much more content-heavy, however, with an extensive repository of original material, including columns by a rotating list of finance and economics celebrities — including Ben Stein and Rich Dad, Poor Dad author Robert Kiyosakis.
Google does have a greater variety of content options on its individual company pages, however, when blogs and discussion boards are factored in.
Though a logical extension, in many ways, of its earlier portal-like offerings, the Google Finance site is still seen as a significant development and the precursor to an all-out battle among Google, Yahoo, MSN and AOL for portal supremacy.
"Google is getting into publishing, whether or not it wants to admit it," said search marketing expert John Battelle. The moderators on the community-based discussion boards will be paid to moderate and foster debate, he noted, essentially making them editors.
Another important shift is that Yahoo was being referred traffic regularly from the Google search site, with Yahoo Finance often the first site to appear in listings. Now, the first results will be from the Google Finance page.
While a logical business move, that scenario does raise questions about Google's mission, Battelle noted, and whether it should always provide search results that have the most relevant link first, regardless of who controls or benefits from the traffic.
What's Next?
Some were already beginning to speculate what type of content-focused site Google might roll out next, with some bloggers suggesting Google might try to leverage its search expertise to create a health information site that could cut through the considerable online clutter on that topic.
Google will need to be patient if it hopes to wrest users away from Yahoo Finance, Forrester Research analyst Charlene Li said.
"I frankly think that we won't be seeing a mass migration of people from other finance sites to Google anytime soon," Li told the E-Commerce Times. "I believe that most mainstream financial site users will stick with their current sources for now, primarily because it's simply a pain to have to re-enter your detailed portfolio information again."
Yahoo and MSN are likely to respond to the Google launch by beefing up their offerings in the areas of interactivity, search, charts and message boards, she added, and still have the advantage of a large and somewhat loyal user base.
Yahoo may be particularly interested in defending its Finance turf, since that site was one of the first to catch on as a venue for paid premium information when the company was betting heavily on fee-based revenue during the online advertising downturn. With online ads rebounding and growing strong, Yahoo has continued to invest in its finance portal.