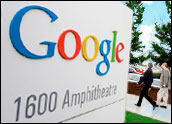 With legislative attempts to mandate so-called "network neutrality" sputtering,Google said it would use existingantitrust laws to require that cable companies and telcos carry its services to consumers if necessary.
Google would not hesitate to bring antitrust complaints to the attention of the U.S. Department of Justice (DoJ) if its services should be blocked or slowed, Google vice-president and Internet pioneer Vinton Cerf told reporters Tuesday during a press conference.
Fighting for Net Neutrality
"If we are not successful in our arguments [for net neutrality rules]," Cerf said, "then we will simply have to wait until something bad happens, and then we will make known our case to the Department of Justice's antitrust division."
The threat may be aimed at breaking what appears to be a logjam in the U.S. Senate over a pending telecom bill, which currently lacks strong net neutrality language. The House already passed a version of the bill that does not include a tough net mandate.
"If the legislators insist on net neutrality, we will be happy," Cerf said. "My company, along with many others, believes that the Internet should stay open and accessible to everyone equally."
The net neutrality principle means that telcos and cable companies — which own and control the vast majority of high-speed Internet connections used by consumers — should be required to keep those networks equally open to Web services companies such as Yahoo, Google, AOL and others — even when those firms are providing services such as video downloads, for example, that compete with the network owners' own services.
Web services firms worry that network owners will create a two-tier Internet system, with their own services being delivered first and others' relegated to a virtual slow lane. There is also concern that network owners might entirely censor or block some content from passing through their pipelines.
Hitting Home?
Google has lobbied heavily for net neutrality legislation, but to date, the telecom reform bill has moved through Congress without any strong neutrality language tacked on. A Senate showdown apparently looms, however, with at least one lawmaker placing a hold on the telecom bill. That suggests the possibility of a filibuster that would require 60 votes to snuff — a number the bill's supporters may not have.
That hold is said to be aimed at having neutrality provisions tacked on before a final vote is taken. Net neutrality has a number of high-profile advocates in the Senate, including New York Democrat Hilary Clinton.
Meanwhile, new proposals have been floated that would enable network owners to sell their own services on a premium connection but would still require a public Internet on which there would be no discrimination concerning which content could get through.
The Center for Democracy and Technology (CDT) has submitted a proposal for such a scheme, saying it protects both Internet interests and the broadband network owners, who have said repeatedly that they need flexibility and control in order to recoup the billions spent on building out the networks.
CDT Executive Director Leslie Harris said it is critical to have rules in place before any problems arise.
"Once new, non-neutral networks and business arrangements have been put in place on the Internet, overturning those arrangements is likely to be extremely difficult," Harris said. "It is better to establish rules of the road in advance." That's also fairer to telecoms, because it enables them to build neutrality into "network architecture and business plans from the start."
Google the Lobbyist?
Whether Google's promise to pursue antitrust actions will sway any lawmakers remains to be seen. Though Google has made itself into a business and technology force to be reckoned with, it doesn't wield a lot of influence on Capitol Hill, where it has clashed with lawmakers in the past, most recently over its decision to censor Web content in order to do business in China.
Some say the most likely scenario now may be for the legislative session — shortened by election campaigns — to end without a telecom bill being passed. That would only delay debate on how to handle net neutrality until next year.
The new proposals are more likely to break the logjam by giving telecom companies middle-ground proposals they can support, telecom analyst Jeff Kagan told the E-Commerce Times.
"Both sides want something here," he said, noting that the telecom companies want the overall bill passed soon, and neutrality backers want their language included. "A compromise or alternative solution is what it's going to take to break the standoff."