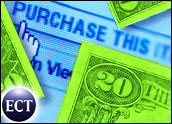 Sending a competitive shot across the bow of e-tailers such as Amazon and eBay, Google Thursday launched its long-rumored online payment system, now known as Google Checkout.
Checkout launches with a handful of major online merchants having signed up, including Jockey, the Starbucks Store, Levi's, Dockers, Buy.com, Timberland and Zales jewelers. Google indicated it would work to enroll more merchants now that the service is live. Merchants that accept the service are identified in search results and on their Web pages with a Google Checkout logo.
Fast and Easy
Google said Checkout is a response to questions from users who want purchasing to be as fast and easy as Google search, with users able to complete purchases at sites that take Checkout simply by logging into their Google accounts.
"By integrating the checkout process with search and advertising, we're helping our users complete the cycle of searching, finding and buying," said Salar Kamangar, Vice President of Product Management at the search giant. "In the offline world, shoppers don't tolerate long lines and tedious data entry just to buy something. They shouldn't have to in the online world either."
Google noted that it becomes the ultimate holder of the payment information and will handle transactions. That information is not passed along to merchants, thereby limiting the number of times a person's data is shared, which could lend the system credibility in preventing identity theft, assuming users trust Google to securely hold that information indefinitely.
The launch ends a year of speculation, during which Google's system was said to be known by a variety of monikers, including Google Wallet and, more recently, GBuy.
Supporting, Promoting Ad Sales
While the service was initially believed to pose a threat to eBay's PayPal, and may still to some degree, the service may represent more of a risk to the business of Amazon.com and other e-tailers. Unlike PayPal, Google Checkout is not yet being aimed at the types of small online retailers or hobbyists that PayPal has found strong traction with by focusing on simplifying person-to-person transactions.
In a post to the official Google Blog, Product Lead Benjamin Ling said Checkout is designed to be easily integrated into Web sites and to work with Google's AdWords paid search service.
"We're especially excited about combining Google Checkout with AdWords because it gives our advertisers a more complete solution for attracting customers and processing the sales that result," Ling wrote.
Google said Checkout will work with Visa, MasterCard, American Express and Discover and that Citi will promote the service to its members. The company said it would charge merchants 2 percent of the total transaction price, plus 20 US cents per transaction, slightly under-pricing PayPal. Google will then have to pay credit-card company fees.
Google will also offer discounts to AdWords customers, with ad buys qualifying them for Checkout fee discounts.
Time Will Tell
Whether Checkout can gain traction among consumers is something that remains to be seen. The convenience of a single online "wallet" has long been seen as a killer application for Web commerce, but previous attempts by Yahoo, Microsoft and others have fallen well short, often because of concerns about privacy and security.
Checkout is "about two-thirds of a wallet service," JupiterResearch analyst David Card said.
"This isn't a complete alternative payments system," Card added. "It'll get bigger, no doubt, over time."
Google has rapidly built a strong online brand with its now-dominant search product and some of its ancillary services — such as Gmail and Google News — have been able to gain traction among consumers, noted Forrester analyst Charlene Li.
"Now we have Google tracking our search history with personalized search, e-mail with Gmail, and online spending with Checkout," Li said. "At what point do consumers get that squishy feeling in their gut that Google knows too much? Our research shows that while consumers have a great concern about privacy, they aren't willing to do very much and in many cases, willingly provide personal data as a fair exchange for a valued product or service."
That feeling of trust could change on a dime, however. "What happens when the inevitable phishing attacks begin, or payment problems ensue?" Li said. "It's one thing to serve several hundred thousand advertisers paying for their search ads, and quite another to serve potentially millions of consumers."
Given the speculation of the competitive impact from Google's service, however, the launch probably isn't as scary to eBay and others as it could have been, Card said. "Will it kill PayPal? Absolutely not."