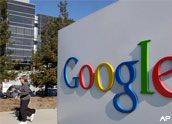 Fresh from its latest blockbuster earnings report, Google Inc. has set its sights on expanding its reach in the online advertising realm by going after a potentially massive revenue opportunity — companies that are more interested in using the Web to create brand awareness than in getting users to click to their Web sites.
Google said it had begun testing a new version of its AdSense program that enables advertisers to choose on which Web sites they appear, to create moving graphical images on their banner ads and to pay based on how many times their ads are seen.
Brand Awareness
Currently, AdSense users pay on a per-click basis. The cost-per-view approach is more akin to the one taken from the start by traditional interactive marketing firms such as DoubleClick.
While some advertisers prefer pay-per-click because their ads warrant immediate attention, others, notably consumer product makers, might care less about getting click-through and more about building brand awareness and image, analysts say. Google might be able to tap into that potentially huge market by offering the pay-per-view model.
The ability to choose sites where ads appear is also similar to what other firms offer their advertising clients and is meant to supplement or in some cases replace the auction-style method that Google uses to distribute ads now, with ads placed on sites that have relevant content and preference given to those that generate the highest revenue levels.
The latest moves highlight the course that Google, Yahoo and other search-marketing firms have plotted, one that will take them head-on into competition with traditional interactive marketing firms such as DoubleClick and 24/7 Media.
Analysts, Investors Upbeat
Analysts have actually become even more bullish on Google in recent days, with Standard & Poor's putting a one-year price target of US$280 on the search firm's shares and Bear Stearns predicting that despite recent blockbuster quarters, "some of the best is probably still to come."
Investors also cheered, causing Google shares to surge 3 percent on the news of the new services, to $222.41.
Google said it is currently testing the program with some advertisers and will open it to all users in the next few weeks. AdSense, which launched about two years ago, was expanded last year to include graphic-laden banner ads for the first time, a move that surprised many observers because of Google's strict adherence to text-only ads.
Analysts noted that the new service further distinguishes between Google's search business and its marketing efforts, which had long been all-but-inseparable.
Head to Head
The Google move also takes it directly into the core of Yahoo's business, which was based on banner ads almost from the start, though it has seen significant diversification in recent years.
Forrester Research analyst Charlene Li told the E-Commerce Times that Google recognizes that it needs to tap into new market niches in order to maintain the revenue and profit growth that has driven its stock valuation higher in the wake of its IPO last summer.
Advertisers will likely appreciate the ability to customize their campaigns by choosing which sites their ads will appear on, and Google's search marketing efforts might also get a boost as companies look to design and build multi-pronged campaigns that can take advantage of the various Google approaches to placing ads.
"This gives them much more of a comprehensive menu of marketing services," Li added.