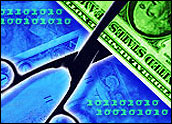 Search engine powerhouse Google has decided to sell its decaying 5 percent equity stake in struggling Internet portal AOL just two years after investing US$1 billion in the company.
AOL parent Time Warner disclosed Google's decision on Wednesday — the same day Time Warner announced fourth-quarter financial results that showed a clear decline in AOL's business.
AOL's revenue fell 23 percent to $968 million, including an 18 percent decline in online advertising revenue and a 27 percent decline in subscription revenue. The unit reported a $1.9 billion operating loss compared to operating income of $274 million during the fourth quarter of 2007.
In all of 2008, AOL revenue declined 20 percent to $4.2 billion compared with the year before. AOL reported a full-year operating loss of $1.1 billion, compared to operating income of $2.2 billion in 2007.
The Escape Clause
The significant decline in the value of Google's AOL stake first came to light when Google announced its fourth-quarter results last week.
The company disclosed it took a massive $1.09 billion write-down on its investments in AOL and Clearwire, a wireless broadband company currently building a national next-generation network. AOL's value slipped $726 million and Clearwire's value slipped $355 million.
Despite the write-downs, Google CEO Eric Schmidt said both AOL and Clearwire "continue to remain part of our long-term strategic view."
Now, just a week later, Google has triggered an escape clause in its agreement with AOL that requires Time Warner to do one of two things — spin off the AOL unit in an initial public offering, or buy back Google's 5 percent stake at the current market value.
"Google, from what I've read, anyway, is doing exactly what their agreement with [Time Warner] calls for," Derek Brown, an equity analyst with Cantor Fitzgerald, told the E-Commerce Times. "They put the clause in there for a reason. They didn't just wake up one day and say we need to do this."
At some point prior to signing the 2006 investment agreement with Time Warner, Google clearly envisioned a scenario where its stake in AOL might not be worth what it was at the time of the investment, Brown said.
Google Refocuses
Although Google reported better-than-expected financial results last week, the company may be trying to refocus its efforts on initiatives with more strategic potential.
"AOL has lost a lot of market share, and it's not clear where it's going to go with its business," Steve Weinstein, an equity analyst with Pacific Crest Securities, told the E-Commerce Times. "Google is saying [AOL] is no longer strategic to us, and we should deploy our capital otherwise."
Cantor Fitzgerald's Brown noted that the Internet industry is rife with so called co-opetition — relationships struck between competitors because the perceived benefits of an alliance outweigh the perceived threats each company poses to the other.
"On the one hand, Google and AOL have been pretty good partners," Brown said. "On the other hand, they are competing for eyeballs and ad dollars."
At some point, the relationship with AOL became less strategic to Google, he said.
Will Yahoo or Microsoft Step In?
Speculation is circulating that Google's move could give rivals Yahoo and Microsoft the opportunity to step in and acquire AOL.
However, Google may still pose a barrier to such a deal. It's not clear whether a deal between AOL and Yahoo or Microsoft would break AOL's distribution agreement with Google, Weinstein pointed out. "That would be more of a stumbling block than Google's 5 percent stake."