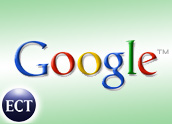 After five straight earnings disclosures that exceeded analyst expectations, Google missed targets for its fourth quarter profit, sending its high-flying stock into a tailspin and raising new questions about the rate of growth in the Internet advertising sector.
Both revenue — which came in at US$1.29 billion and matched forecasts from analysts — and profit grew by more than 80 percent in the quarter compared to year-ago results. Because Google has made it a policy not to issue its own earnings guidance, analyst estimates varied widely. Earnings, which came in at $1.54 a share compared to 71 cents a share a year ago, were reduced in part by a higher tax rate, Google said. Analysts had been calling for $1.76 per share.
Under $400
Because most analysts had expected the search giant to continue its impressive run of triple-digit earnings growth, the miss had some investors scrambling to unload Google stock immediately. The shares fell some 17 percent in after-hours trading Tuesday, starting just minutes after the results were released and wiping out some $20 billion worth of market value in a matter of an hour.
In regular trading Wednesday morning, the stock was down about 9 percent, or some $40, to $392.
Google can blame itself for the fierce reaction to its miss, since it has conditioned investors to expect results that blow away what competitors such as Yahoo — which disappointed with its outlook last month — are able to produce in the same markets.
The search company put a positive spin on the results, saying that core areas remained strong engines of growth.
"We are very pleased with our results for the fourth quarter as we achieved excellent performance across our businesses," said CEO Eric Schmidt. "We generated significant revenue growth in our core search and advertising business, driven by continued strength in traffic and monetization."
Spending More
The results — Google's first profit target miss since it went public in August of 2004 — show Google spending more money to drive traffic to its search properties and paid results, and to grow its business.
It hired 700 employees during the quarter, growing its workforce to more than 5,600, and spent some $155 million on sales and marketing, more than double what it laid out the year before.
Investors should expect higher expenses for Google as it moves to stay ahead of increasing competition, Schmidt indicated, especially from Microsoft, whose MSN Search will launch its own paid listings service in June.
"We will continue to invest significantly as we develop innovative new products and as we extend our core technologies to new user access points and to different channels," Schmidt said. Google is trying to carve out a niche for itself as a middleman in the Internet video world, for instance, and has made several attempts to extend its brand to mobile devices, with mixed results so far.
While the initial investor reaction — or over-reaction, depending upon one's point of view — was largely negative, Google remains poised to enjoy sustained growth in the online advertising space.
"We believe the online search market remains very robust, and we believe that Google continues to take incremental share both in the U.S. and internationally," said Citigroup analyst Mark Mahaney.
The results may be a necessary reminder that Google is exposed to changes in the market, though growth by all accounts remains strong in the core areas, search marketing expert John Battelle told the E-Commerce Times.
"There will be ups and downs," he said, even if the overall long-term trend is toward expansion of the market and market-share gains by Google.
Bold Moves Ahead?
The miss and the stock market reaction could prompt Google to reconsider whether to maintain its silence concerning future results. "This may prove that their policy barring pre-announcement and giving earnings guidance may not be the wisest policy," said Lehman Brothers analyst Robert Willens.
Indeed, many companies would likely have softened the blow by releasing information about the higher tax rate beforehand. Google's effective tax rate for the quarter was 42 percent, up from 30 percent the previous quarter, largely due to international expenses and revenues.
Even as Google was releasing its earnings, speculation was rife that it was poised for a bold move. One rumor has Google talking with digital music site Napster about possibly buying that company, which has run into difficult times with its own earnings of late.
Such a move would thrust Google into the music business, making it more of a direct competitor to Apple, among others.
Bear Stearns analyst Robert Peck called a move to create an iTunes competitor a "logical step," one that dovetails with the Google Video product. "We do think this fits with Google's recent moves and its ultimate goal of organizing the world's information," Peck said in a research note.
Google is often the subject of such rumors, but it has shown it's willing to use its massive cash war chest and the power of its stock value to buy companies when it sees fit. Such was the case when it made a $1 billion investment to buy a 5 percent stake in America Online, a move that should start to show up in Google results more prominently in coming quarters.
Google has denied that it is working on a deal with Napster or is poised to enter the music business. It is likely eager to avoid angering partners in that business, where its main role is currently in providing Web traffic through links to download sites when users search for music titles, artists names and related information.