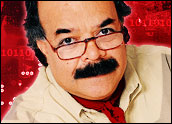 Silicon Valley's current enfants terrible — Google's brilliant duo — have given the global populace wings to soar over towns and cities, and the flights include everything except peanuts. Fasten your seat belts.
Consider these two observations:
First, every half century or so, advertisers accidentally tumble onto a new idea that makes the entire industry go bonkers for a decade or so — like neon lights, gigantic high-resolution billboards or Web sites.
Second, every half century or so, consumers get a break that revolutionizes their daily lives — like the light bulb, the credit card, the Internet — and now, Air Google. Aha! Bring your seat to an upright position.
From Flat-Screen Surfing to Three-Dimensional-Flying
Giving consumers the tools for aerial scanning and three-dimensional mapping of the world — allowing them to fly by their neighborhoods or make a detailed inspection of far away places — is radical. That's what Google Local and similar services — which I'm referring to collectively as "Air Google" — do through satellite image maps that provide a bird's-eye view of just about anyplace.
Air Google makes it possible to inspect vacation destinations, conduct market research, spy, carry out competitive surveillance, hunt for a job, trade property, study ecologies, jog trails and fish streams, among at least a million other things — virtually.
Of course, much of this has been possible for some time via the Internet, but in a far more limited way than permitted by the latest technologies. Now, consumers suddenly have acquired wings and can easily fly almost anywhere in the world in living color.
The experience is edging closer and closer to reality. Large, flat-screen monitors are getting cheaper by the day. Internet-capable PDAs and smartphones create a brand new dimension. The notion that Big Brother may be watching is almost quaint. Now, the whole world is watching — and we're watching each other.
Bird's Eye View, Structural Imagery
For advertising agencies, Air Google is a huge gift. Businesses now have to readjust their aerial visuals en masse to attract flying consumers in search of the closest shopping outlets, health clubs or places to dine out.
This will shift attention from billboards to rooftops. It will foster the use of distinct bright colors, logos and other highly visible structures, along with aerial-image-friendly landscaping designed and executed with the goal of attracting attention from the sky.
Air Google will change the traditional meaning of "yellow pages." Instead of listing businesses by category, directories will devise a new organizing principle based on proximity and quick accessibility. Potential home buyers will be able to size up a neighborhood as a part of the qualifying process — something that never was possible using traditional yellow page listings or even Web sites.
Privacy May Be a Moot Point
Marketers will develop new approaches that take advantage of the bird's-eye-view concept and the use of structural imagery. These will soon become hot topics in branding and corporate-image conferences.
Small businesses, in particular, will start hunting for distinct locations to catch the attention of consumers. Improvements in the technology to capture and deliver sharper images will further encourage the display of goods and powerful signage to lure flying consumers to come down for a closer look. There will be a marked increase in demand for employees with specific skillsets with this new twist on marketing.
The negative side of this marketing revolution can be summed up in one word: privacy. My view is that we all live in a very open society, and the more open the better. Let the people growing pot or hiding illegal goods in their backyards be exposed. For most of us, there won't be a perceptible change — our lives and our data are open to one party or another already.
Recommendations
Marketing and cyber-branding are the number one challenges for most senior executives, and the new Air Google fly-by capability is a great opportunity to explore new possibilities. After all, it wasn't too long ago that downloadable ring tones for cell phones and prepaid calling cards were unheard of.
For those who seriously explore ways to reach consumers via rooftops and aerial-view-friendly design structures, there will be hundreds of new opportunities. Spot something by air, click on it and go to the Web site. Click again and have a webcam chat. Bingo! Sales are made and friendships are created.
This is certainly a revolution in global exploration. More business, anyone? Best go to your rooftop and wave a white handkerchief. An Air Google flight is likely to be cruising by any minute.
---
Naseem Javed
, author of
Naming for Power
and also
Domain Wars
, is recognized as a world authority on global nameidentities and domain issues. Javed founded ABC Namebank, aconsultancy he established a quarter century ago, and conducts executiveworkshops on image and name identity issues. Contact him at
[email protected]
.
---