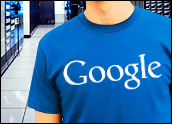 Emphasizing its belief in the value of user-created content and online collaboration, search giant Google has acquired JotSpot, a startup that develops online collaboration tools known as "wikis." Wiki tools, which are increasingly being embraced by the corporate world, let users create, modify and even delete information in documents others in a group have worked on.
JotSpot said it has closed registrations for its products and services for the time being as it migrates to Google's servers and systems. When registration is open again, the service will be free to all users, including businesses and individuals who use a Family Services version of the wiki platform.
Shared Vision
"It was pretty apparent that Google shared our vision for how groups of people can create, manage and share information online," JotSpot co-founder Joe Kraus wrote on Google's official blog.
Terms of the deal were not disclosed. Privately held JotSpot has been around since 2004 and was co-founded by Kraus and Graham Spencer, who also helped establish dot-com era portal Excite.com.
How Google plans to use JotSpot is not yet clear, though in a section of comments on the deal on the JotSpot site, Kraus indicates the tool would fit well with other Google productivity and collaboration tools, such as Google Spreadsheets and Google Docs.
Though they've been around since the mid-1990s in more technical forms, wikis — the name derives from a Hawaiian term roughly translating as "hurry quick" — have gained fame on the Web in more recent times thanks to the growth of Wikipedia and other user-generated collections of content. eBay recently said it was launching wikis, using JotSpot's tools, to enable sellers and buyers to compile a comprehensive guide to using that platform to buy and sell.
Nerd Factor Eliminated?
JotSpot has attempted to add both ease-of-use — Kraus has said the goal was to take the "nerd factor" out of wiki use and mimic the functionality of Microsoft's productivity tools — and more functionality to wikis, incorporating spreadsheets, calendars and other forms of documents as well as plain text pages.
In the Google blog posting, Kraus said JotSpot grew out of a wiki that he and Spencer set up to share and track their ideas about starting a new company after leaving Excite. The company launched late in 2004 behind about US$5 million in venture funding.
"It immediately changed the way we worked together," he wrote. "Everything was kept in one place, not locked in e-mail threads or on different computers. We could both make changes to the same document, without having to know HTML. After twenty minutes of using a wiki, I was convinced that they were like the Internet in 1993 — useful, but trapped in the land of the nerds.
"We set out to start JotSpot as a way to bring the power of wikis to a much broader audience," he added.
Google seemed to be traveling a parallel track, meanwhile, purchasing collaboration tools such as Writely and launching other tools to let users work together through the Web, Kraus noted. "Joining Google allows us to plug into the resources that only a company of Google's scale can offer, like a huge audience, access to world-class data centers and a team of incredibly smart people," he added.
JotSpot has said the tools have numerous applications in business, allowing widespread collaboration even over long distances. For instance, a job application could be a Web-based wiki; an applicant would fill it out, and then those who conduct interviews or background checks would update the information provided in real time.
Missing Link?
Wiki tools were considered a missing ingredient in Google's online collaboration strategy, which the company has begun pushing with the release of Google Apps for Your Domain and upgrades to Writely — which it bought last year and is now known as "Google Docs."
Google previously bought the Blogger blog-publishing platform, which also may be leveraged in certain business settings.
More enterprises are now asking about how wikis and blogs can fit into their internal content management strategy, Gartner analyst Jeffrey Mann said, including how they can retain control of the content, keeping it stored properly and in compliance with regulations, while still allowing for the free-flow sharing of ideas.
In many settings, wikis are being introduced by employees themselves, in much the same way that instant messaging got a foothold in many business settings, he noted. "Businesses need to plan these deployments if they want to keep the content under control," Mann added.
Gartner predicts that by 2009, some 50 percent of U.S. companies will be using wikis in some capacity.
JotSpot has many competitors, including giants such as IBM and Microsoft, which have begun to build wiki capabilities into their enterprise software, such as Lotus Sametime from IBM and Sharepoint from Microsoft. Others include SocialText, which is based by enterprise software giant SAP, and CRM-focused wiki maker CustomerVision.
The JotSpot purchase also reinforces Google's long-held belief in the value of user-generated content, and that it can become the company that finds a way to store, sort and make it all searchable. The most prominent bet on that belief to date came earlier this month when Google plunked down $1.65 billion to buy video sharing site YouTube.