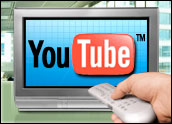 MTV's parent company Viacom is seeking more than US$1 billion in damages from YouTube and its owner Google for thousands of alleged copyright infringements.
A complaint filed by the media giant in U.S. District Court in New York contends that almost 160,000 clips of Viacom's programming have been made available on YouTube without authorization, and that those clips were viewed more than 1.5 billion times.
In addition to MTV, Viacom also owns a number of other cable networks including VH1, Comedy Central and Nickelodeon.
Stealing Efforts?
The New York-based company charges that YouTube, which Google acquired late last year in a $1.6 billion stock deal, is a for-profit organization that has "built a lucrative business out of exploiting the devotion of fans to others' creative works" in order to enrich itself and its corporate parent Google.
"There is no question that YouTube and Google are continuing to take the fruit of our efforts without permission," the company said, "destroying enormous value in the process."
The value of those efforts, according to Viacom, rightfully belongs to the writers, directors and talent who create the entertainment, as well as companies like Viacom that invest in its development and production.
Legal Battles
Google has been hoping to avoid this type of legal confrontation. In an attempt to fend off growing criticism, the search giant recently decided to tackle copyright issues head on by offering antipiracy technologies to stop unauthorized video-sharing.
The tool is designed to help media companies identify and remove pirated videos uploaded by users, the search giant said.
However, little technical information about the antipiracy software has been forthcoming from Google, said Forrester Research Analyst James McQuivey.
"It is very hard to do," he told TechNewsWorld. "You can't push a button and make it happen."
Protecting Partners
Compounding the issue, said McQuivey, is the fact that Google has told content providers it would release the tool to its own partners before anyone else.
"Then we get into the issue of 'Do we have to sign a deal before they enforce the copyright laws?'" said McQuivey.
Media Groups
Several media groups have been involved in a pitched battle with Web sites like YouTube and MySpace — which also has been accused of illegally hosting copyrighted material.
Universal Music Group, the world's biggest record company, late last year accused YouTube of being a serial copyright infringer, and CEO Doug Morris blasted the outfit during a recent Merrill Lynch investors' conference speech.
Generating Revenues
Now, Viacom claims YouTube's strategy has been to avoid taking proactive steps to curtail the infringement on its site, while generating significant traffic and revenues for itself. In turn, it has shifted the entire burden and cost of monitoring YouTube onto the "victims of its infringement."
If Google's momentum is slowed at all as a result of the suit, media companies can expect other firms like AOL Video and iFilm to cozy up to them quickly, says McQuivey — and the feelings will likely be mutual.
"Media companies are going to want to punish Google a little," he said.
A YouTube representative could not immediately be reached for this article.