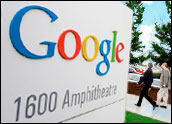 Search giant Google missed analyst forecasts for fourth-quarter profit — even as it slowed its hiring growth to curb expenses — and executives cited the difficulties of making social networking advertising work as one of the factors for the miss.
The longtime Wall Street darling joined a long list of tech companies to disappoint analysts recently with at least part of their earnings report. Some have posted strong earnings but issued downbeat forecasts that have fed into worries about a possible U.S. recession and the impact such as slowdown would have on the technology sector.
Google's outlook couldn't be categorized a disappointment, however, because the search giant stuck to its longtime policy of not issuing forward-looking earnings guidance.
Below Analyst Targets
Still, the fourth-quarter results were enough to cause consternation in some corners. Google earned US$1.2 billion in profit in the fourth quarter, a 17 percent increase from the year before, but — at $4.43 per share — a penny below analyst targets.
Revenue for the fourth quarter was $4.83 billion, 51 percent higher than the year before. With traffic acquisition costs removed — a favorite benchmark for many analysts — Google had net sales of $3.39 billion, a 52 percent increase, but below the $3.45 billion hoped for by analysts who follow the firm.
Google is pleased with the results, said CEO Eric Schmidt, adding that the search engine has not been impacted by what he called "rumors of future recessions."
Google's continued expansion "reflects strong momentum in our core business, growing receptivity to our new business initiatives, and improved discipline in managing our operating expenses," he noted.
Social Distortion
Google shares were down more than 8.5 percent by the close of trading Friday to $515.90, though some of the drop may have been the result of the potential Microsoft-Yahoo tie-up. Still, Google shares have fallen considerably since topping out above $700 last year.
Google is finding it difficult to monetize social networks, said cofounder Sergey Brin, referencing to the host of partnerships Google has to deliver ads to such sites, including News Corp.'s MySpace.
"We have had a challenge in the fourth quarter with social networking inventory as a whole, and some of the monetization work we were doing there didn't pan out as well as we had hoped," Brin commented. "But we are continuing the efforts and we are still optimistic about future quarters."
Elsewhere in Google's advertising universe, Chief Financial Officer George Reyes said holiday seasonality and days lost to regular advertising inventory — both Christmas and New Years fell on Tuesday, typically one of the busiest days for delivering ads for key sectors such as travel and financial services — held back even more potential growth.
Google may be paying partners more for traffic as older deals with publishers and others are being renegotiated, RBC Capital Analyst Jordan Rohan told the E-Commerce Times. they'll produce, he added.
Shifting Ad Spend?
While Google's results were released before word hit of the Microsoft bid to buy Yahoo for $44.6 billion, Google's own acquisition efforts could be a key to unlocking more revenue growth. Google is awaiting European Union approval for its DoubleClick purchase, with a ruling expected by early April.
"We're hopeful that it'll clear," Schmidt said.
Google's longtime policy against issuing guidance may cloud things for analysts, who have to wrestle with figuring out how the online advertising market will fare should the U.S. fall into recession for the first time since 2002.
Many traditional publishers have already reported a drop in advertising revenue, though it's possible the Web channel will fare better because it can be done at less cost and the results tracked more closely, Forrester Research analyst Shar VanBoskirk told the E-Commerce Times.
"If times do get tougher, some marketers may preserve their online spend or even shift money there if they think it's more cost-effective," she said.
That could help Google by driving up the price on search keyword advertising and by growing the overall online ad market at a time when it is folding DoubleClick into the mix.
Google's overseas revenue growth remained robust, bringing in $2.32 billion from non-U.S. markets in the fourth quarter, or about 48 percent of revenues.
The company ended 2007 with 16,805 full-time employees worldwide, up from just under 16,000 at the end of September. That's a far slower hiring pace than Google was on earlier in 2007, when the company's hiring spree was seen denting profit in the second quarter, which was also marked by a rare earnings miss for Google.