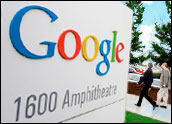 Putting its money where its mouth is — and where its corporate parent's future may lie as well — Google's charitable arm, Google.org, on Thursday announced US$25 million worth of new grants across what it now says are the five core areas that it will focus on going forward.
Google.org will concentrate its monetary giving and related work in the five areas, including three new focuses: the prediction and prevention of catastrophic events; using information to improve public services around the world; and fostering the growth of small and medium-sized businesses (SMBs).
Those three subject areas will join two areas where Google.org is already active: the quest to develop renewable energy that is cheaper than coal, and helping to accelerate the commercialization of plug-in vehicles, an effort known as "RechargeIT."
Building a Better World
Google will use cash grants — along with such support as research time from its own employees — to help foster the five initiatives, said Larry Brilliant, M.D., executive director of Google.org.
The choices "are our attempt to address some of the hard problems we as a world need to face in the coming decade," he added. "We have chosen them both because we think solving them will make a better, fairer, safer world for our children and grandchildren — and the children and grandchildren of people all over the world — but also because we feel that these core initiatives fit well with Google's core strengths, especially its innovative technologies and its talented engineers and other Googlers, who are really our most valuable assets."
Unique Setup
Google cofounders Larry Page and Sergey Brin created Google.org as a way of fostering the company's corporate mission to "make the world a better place," said Sheryl Sandberg, vice president of global online sales and operations at Google, and a member of the charity's board. The company has pledged to devote 1 percent of its equity and 1 percent of annual profits — as well as the donated employee time — to philanthropic pursuits.
Google describes Google.org as a "hybrid" organization, enabling it to make direct grants or to take stakes in for-profit companies. When it launched in 2004, Google set aside around $1 billion in seed money for it.
The approach is an innovative one and helps protect Google shareholders from having to subsidize the efforts directly, Peter Cohan, president of consulting and venture firm Peter Cohan & Associates, told the E-Commerce Times.
"It has a better structure," he said, with the dot-org arm having the ability to invest in or create companies to foster its missions without a direct impact on shareholder value. "Philanthropy is yet another field of endeavor in which Google has out-innovated Microsoft."
On Thursday, Google detailed a slew of grant awards across the five areas, including:
Earlier grants in the renewable energy cheaper than coal category include $10 million to eSolar, a startup aiming to make it possible to use solar power in traditional electricity plants. Google has also said it would set aside $10 million for grants to startups working on ways to make plug-in hybrid cars more commercially viable.
Polishing Its Image?
Google has from its outset espoused a mission to do no evil, a standard that may be harder to adhere to as the company grows and becomes seen as more of an established corporation than an innovative startup. In that sense, its philanthropic efforts may help keep its overall public image positive.
Some of the prongs of the giving strategy may also help feed back intoGoogle's own long-term missions. For instance, improving education in India will mean more qualified engineers coming out of that country and boosting businesses in Africa could drive demand for Google's menu of services and products.
Google has tapped into the contemporary zeitgeist in particular with its green efforts, Gartner analyst Andrew White told the E-Commerce Times.
Google has pledged to go carbon-neutral — a tall task given it runs more than 1 million servers worldwide — and its green energy investments come at a time when concern about global warming is running high not just among the public but among enterprises that may start using "green" ratings to help choose technology vendors.
"Other companies have made the green and carbon-neutral pledges," White said. "Google is trying to say and show that it's going that extra mile and that it's out in the lead on this issue."