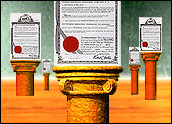 Nortel awarded its 6,000 patents to the winning bidder, and it wasn't Google — it was a consortium of six mobile technology leaders: Apple, EMC, Ericsson, Microsoft, Research In Motion and Sony. The group paid US$4.5 billion in auction that took place over several days.
Google set the starting figure for the bidding when it offered $900 million for the patents in April. Its failure to dominate was a surprise, prompting questions about its commitment to Android and its extensive ecosystem.
The Nortel package includes a wide range of mobile technology patents and applications spanning wireless, wireless 4G, data networking, optical, voice, Internet, service provider, semiconductors, Internet search and social networking.
It's not clear how the six mobile technology competitors will divvy up the patents. Not all of the companies contributed the same amount to the deal. Ericsson revealed it would pay $340 million, while Research In Motion said it had committed about $770 million.
Although it was first in line with a show of interest, Google criticized the patent sale, claiming it will block innovation.
"This outcome is disappointing for anyone who believes that open innovation benefits users and promotes creativity and competition," Kent Walker, senior vice president and general counsel at Google, told the E-Commerce Times. "We will keep working to reduce the current flood of patent litigation that hurts both innovators and consumers."
Nortel did not respond to the E-Commerce Times' request for comments by press time.
Patents Show Real Value
In the wireless world, the ability to compete effectively depends to a large degree on technology. Buying access to technology through patents is often less expensive than developing it from scratch. Plus, ownership of patents wards off infringement suits.
"This monumental deal illustrates the growing value of patents in our technology-driven world," Raymond Van Dyke, a Washington, D.C.-based technology and IP attorney, told the E-Commerce Times. "The varied consortium beat bids by Google and others to snag over 6,000 patents and pending patent applications, changing the IP enforceability map for mobile telephony."
For the companies in the consortium, the holidays came early, with a slew of shiny new technologies. They also get protection from lawsuits related to Nortel's patents.
The consortium will be able to cross-license their technologies with each other, Van Dyke noted. Companies that aren't part of the club are vulnerable.
"Those left out are now subject to patent lawsuits, perhaps many such suits," he said .
Buried Treasure
In a wireless world of constant innovation, many of these 6,000 patents are likely to be stale. Even so, the massive volume suggests there are likely to be gems in this large fishing hole.
"The patent portfolio sale, now subject to final governmental review in two weeks, gives the consortium an edge," said Van Dyke.
"With the patent reform bill on the verge of passing, the value of some of these patents may be diminished," he noted, "although the sheer bulk of this acquisition dwarfs most of these concerns."
Can Consortium Members Play Well?
The companies that make up the consortium are not necessarily a friendly bunch. They're competitors in a fierce battle. How can they share these nuggets of tech gold?
"That's hard to say, since the consortium has acted somewhat secretly up until now," Charles King, principal analyst at Pund-IT, told the E-Commerce Times.
"Microsoft's role, for example, was undisclosed," he pointed out.
"They might hold the patents commonly as a group, though that might fracture over time as companies' competitive positioning changes," suggested King. "Another option would be for individual companies to retain full ownership of some patents, and to share ownership of others."
The deal deepens the IP portfolios of the various consortium members, he observed, which could eventually lead to the creation of new and improved products by them or their developer partners.
"The IP represented by the portfolio can also be of reactive value — protecting the new owners from potential IP and patent infringement law suits," said King.
Where's Google?
Given that Google effectively started the bidding , it's surprising that it ended up left out altogether.
"The general consensus seems to be that Google's failure to buy the patents will leave the company open to lawsuits," said King. Given the increasing litigiousness afoot in the IT industry, that seems a fair assessment.
Perhaps Google backed off because the patents were simply overpriced.
"The portfolio sold at three times the premium of its initial valuation, so Google didn't have to go deeply out of pocket," said King. "That may be cold comfort, depending on whether or when the deal results in litigation against Google."