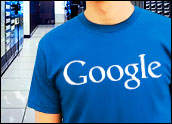 In response to a recent revision to Apple's developer agreement for its iOS mobile operating system, a Google executive on Wednesday lashed out at the company, arguing that the new terms are "not in the best interests of users or developers."
The change drawing Google's ire apparently prohibits some third-party ad networks from collecting ad performance data on the iPhone and iPad, effectively banning them from those platforms. Included in that ban, it seems, is Google's recently acquired AdMob mobile advertising arm.
"These advertising related terms both target companies with competitive mobile technologies (such as Google), as well as any company whose primary business is not serving mobile ads," wrote AdMob founder Omar Hamoui in a blog post.
The terms severely limit the income-generating options of tens of thousands of developers, he said. Further, by cutting off the advertising that supports them, they could drastically reduce the number of free or low-cost apps available to consumers.
Google will "be speaking to Apple to express our concerns about the impact of these terms," Hamoui concluded.
Apple officials did not respond by press time to the E-Commerce Times' request for comment.
The Revised Wording
According to the new terms in the iOS development agreement, reported on Tuesday by AllThingDigital's MediaMemo, "the collection, use or disclosure is for the purpose of serving advertising to Your Application; is provided to an independent advertising service provider whose primary business is serving mobile ads.
"An advertising service provider owned by or affiliated with a developer or distributor of mobile devices, mobile operating systems or development environments other than Apple would not qualify as independent," the revised wording adds.
AdMob certainly seems to fall into that category.
An earlier version of the terms made no such exclusion.
'Paranoia With a Touch of Reality'
"I suspect that Apple doesn't want AdMob to use analytics to gain any competitive advantage for its ad products or for Google-Android more generally," Greg Sterling, founder and principal of Sterling Market Intelligence, told the E-Commerce Times. "This is paranoia but with a touch of reality."
On an earlier occasion, "Jobs railed against Flurry analytics because they were broadcasting product road map information on products that Apple had yet to release," Sterling noted. "There's a comparable or greater fear here of a competitor gaining information that it can then use against Apple in some way."
Apple's move "does seem to be somewhat punitive," he added, given its own failed effort to buy AdMob and its intensifying competition with Google. Still, "their competitive fears might not be entirely unfounded."
As for Google, "AdMob is trying to raise the specter of antitrust and generate public outcry and pressure for Apple to change the policy," Sterling explained.
"The iPhone forms the largest component of its U.S.-based monthly traffic," he pointed out. "If the ban does in fact prevent AdMob from operating on the iPhone, then a huge amount of its business will be compromised. I suspect it won't come to that."