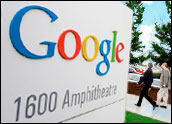 Search engine powerhouse Google reported stronger-than-expected fourth-quarter financial results Thursday that sent the company's stock soaring nearly 6 percent to US$323.88 per share in mid-day trading on Friday.
The news comes on the heels of sobering developments in the broader technology sector. Microsoft announced 5,000 layoffs, its first significant layoffs in 34 years in business, on Thursday. Just one day earlier, Intel announced its decision to lay off as many as 6,000 employees and shutter four semiconductor plants.
Google reported earnings of $382 million during the fourth quarter ended Dec. 31, 2008, down 68.2 percent from $1.2 billion during the same period in 2007. Revenue was up 18 percent year-over-year to $5.7 billion.
However, despite beating Wall Street expectations, the company disclosed it took a massive $1.09 billion write-down on its investments in AOL and Clearwire, a wireless broadband company currently building a national next-generation network. AOL's value slipped $726 million and Clearwire's value slipped $355 million.
Google had $15.85 billion in cash at the end of the fourth quarter.
Consumers Flock to Online Ads
Paid clicks during the fourth quarter rose 18 percent year-over-year and rose 10 percent over the third quarter of 2008, a clear indication that consumers continue to respond to advertisements that come up as a result of search queries on Google.
"Advertisers continued to value targeted ads while consumers are also using search to conduct comparison shopping," Google CEO Eric Schmidt said during a conference call with analysts and reporters on Thursday. "Business is quite healthy, especially given the tough economic climate."
Yankee Group analyst Carl Howe was surprised by the 18 percent increase in paid clicks.
"You'd think consumers would be less likely to click on ads because their wallets are thin, but that's not the case," Howe told the E-Commerce Times.
The question is, how long will consumers and advertisers continue to respond to online ads?
"One of our hypotheses is that Internet ads will be a beneficiary of the downturn because it's inexpensive," Howe said. "As advertisers are watching their budgets, they may say they can get more advertising for less money [through online ads.]"
A More Mature Google
Once considered an upstart tech company, Google showed in the fourth quarter that it is becoming increasingly mature in the way it conducts business.
"It's clear we're in a rising worldwide recession, and we don't know how long this period will last," Schmidt said during the conference call Thursday. "In the short term, we're doing ongoing prudent decisions about our business, as you've seen in the past quarter."
The company added just 99 net jobs during the quarter, bringing its total number of employees to 20,222 — a much lower growth rate in terms of overall headcount than in the past. Earlier this month, Google announced it would lay off 100 members of its recruiting team.
"This is what people are looking for: Google is showing a new ability to control costs and looks like a more mature company," Colin Gillis, director of research at TheStreet.com, told the E-Commerce Times.
At the same time, Google took steps to keep the employees already on its payroll by instituting a new stock option exchange plan that goes into effect on Jan. 29.
"Another issue we faced is 85 percent of our employees have stock options under water," Schmidt said.
Under the new program, employees will have the chance to exchange all or a portion of their existing options for the same number of new options. The new options will be valued at the closing price of Google's stock on March 2. New options issued as part of the voluntary exchange program will vest over 12 months.
AOL and Clearwire
Despite the write-downs in the values of AOL and Clearwire, Schmidt said the two companies "continue to remain part of our long-term strategic view."
The write-downs are a matter of bookkeeping for Google at this point and don't affect the company's cash flow, noted Gillis. "Clearly, the assets aren't worth what [Google] bought them for."
Outlook for 2009 Uncertain
Google doesn't provide Wall Street with any financial guidance, making it difficult for equity analysts to predict the company's financial performance, Gillis said.
However, one thing is clear: Google makes the vast majority of its profits from paid search advertising and is heavily dependant on that one particular market.
"Google is a one-trick pony," remarked Gillis. "It's subject to the overall global levels of commerce just like any other company."
The the true conditions of the online advertising market will get much clearer after Google reports its financial results for the first quarter, said Yankee Group's Howe.