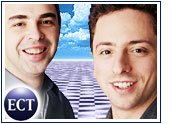 The long wait for Google's IPO may be drawing to an end.
Google said yesterday that it would terminate bidder registration for its Dutch-auction style offering at 5 p.m. EDT today. That sets the stage for those registered to place their bids, a process that could take between a day and a week or more and one that should result in the actual price of the shares being set.
Google has not said how many bidders have registered since its online site went live about a week ago. Only those who already had or who opened brokerage accounts with one of the offering's 28 underwriters were eligible to register.
Open and Shut
Once registration closes, Google said, "The auction for shares of Google's Class A common stock will commence soon thereafter."
Google will use the technology of underwriter W.R. Hambrecht to run the auction, analyze the bids and determine the appropriate clearing price. All those whose bids are at or above that level will be eligible to buy shares, either in the amount they bid on or in small quantities if a larger number of bidders come in above that price.
Hambrecht has run Dutch auction, or open IPOs, for many tech firms, including e-commerce sites Overstock.com and RedEnvelope.
The unorthodox approach leaves some uncertainty about when Google shares will actually start trading. In its latest filing with the Securities and Exchange Commission, Google warns investors to follow their brokers' guidelines for deposits and other steps closely, since it may move quickly once the SEC gives it the go-ahead.
"We and our underwriters may determine to accept successful bids in as little as one hour after the SEC declares the registration statement effective regardless of whether bidders have deposited funds or securities in their brokerage accounts," Google said in the filing. Still, analysts said shares could go public next week or next month.
Also being speculated on is what those shares will cost.
What Lies Ahead
Meanwhile, Google is hearing more warnings about the changes that await it after it goes public. While the massive cash windfall of as much as $3 billion will make it a formidable competitor for other Internet companies, it may also be in for a rude awakening of sorts, said Eric M. Jackson, the former marketing manager for PayPal.
Jackson, whose book on the PayPal IPO and its aftermath, the PayPal Wars, is due out next month, told the E-Commerce Times that opening the doors to thousands of new investors often lets in unintended consequences as well.
"Fighting the Mafia is easier than going public," Jackson said, referring to PayPal's early battles with organized crime. "They're in for many surprises. They've had some already, but there are many more to come."
Jackson said before going public, PayPal had dealt with few legal woes, but within two months of its IPO, it had a number of class-action suits filed. It also found itself a target of regulatory actions.
"In an IPO, you're signaling to the world that you're a successful company and a lot of people want to take advantage of that," he added. "Entrepreneurs are seldom ready for that. They're used to dealing with things internally, solving things their own way. You can't do that when you're being assaulted from the outside."
Tom Taulli, an IPO analyst with CurrentOfferings.com, said because it has pledged to be a different kind of public company — one that avoids short-term earnings pressures in favor of long-term goals, for one — Google will probably be under even more scrutiny than other newly minted public companies.
"Everyone's going to be watching their experiment," Taulli told the E-Commerce Times. "A lot of people are hoping they can pull it off. They've got a lot of people rooting for them."
One factor that may help Google withstand the pressures of being public is that it is actually selling a fraction of its ownership, ensuring that control at least for the time being will remain with the founders and executives. "They aren't putting control of the company up for grabs," Taulli said.