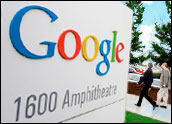 EMI Music has recruited Google CIO Douglas Merrill to head up its growing digital music business, the company announced Wednesday.
As president of EMI Music's digital business, Merrill will head a new global function that brings together for the first time leadership responsibility for all of the company's digital strategy, innovation, business development, supply chain and global technology activities.
His first day on the job will be April 28, and he will report to Guy Hands, CEO of Terra Firma and chairman of EMI Group. EMI is based in London, but Merrill will work from EMI Music's Los Angeles office.
'Good for EMI'
Merrill's departure comes just a month or so after Sheryl Sandberg, another top Google executive, left the company to join Facebook. Now down two key players in as many months, Google's management losses are raising the question of whether a trend is under way.
"Conspiracy theories" can be entertaining, "but I'm not sure I see anything here," Rebecca Wettemann, vice president of research at Nucleus Research, told the E-Commerce Times. "Five years is not an unusually short life span for a CIO, and he's taken them through their IPO and a lot of growth. This doesn't seem particularly significant or indicative of any problems at Google."
Google is simply evolving, Wettemann added, and "good for EMI for snatching him up. Maybe now they'll be able to do something with their digital music strategy — God knows we'd love to be able to buy music somewhere other than iTunes."
'Proven Agent of Change'
"Douglas is a proven agent of change who combines broad business intellect with a deep engineering background," Hands said. "He has been a key member of the management team at Google, which has created more value than any other consumer Internet company by focusing relentlessly on tools that enable consumers to do things more effectively."
Merrill joined Google in late 2003 and rose to become chief information officer and vice president of engineering, responsible for all billing and revenue technology and processes for Google worldwide, along with internal engineering and support worldwide.
'Two Passions'
During his tenure, he led multiple strategic efforts at Google including its 2004 initial public offering and its related investor program and regulatory activities. He was also responsible for the 2006 launch of Google Checkout, which is now a multibillion-dollar business, and for turning around Google's radio advertising business.
Prior to joining Google, Merrill was a senior vice president at Charles Schwab.
Google could not be reached for comment on Merrill's departure.
"I have two passions," Merrill said. "One is creating platforms and tools that make it easier for consumers to achieve their goals. The other is music."
An 'Obvious Jump'
There is a lot going on in the digital music space, so "it seems the right place to be," Zippy Aima, an industry analyst for digital media with ABI Research, told the E-Commerce Times. "Strategically speaking it would make a very obvious jump for him."
While the perception may be that Google and EMI have opposing corporate philosophies — Google focused on open access to all content, and the music industry interested more in protecting its rights — EMI has actually been at the forefront of its industry, Aima noted.
"Though it is the smallest of the five record labels, EMI was one of the first to offer tracks without digital rights management," she said. "It has been relatively open in the sense of experimenting that way."