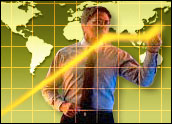 Sales of personal computers around the world rose faster than forecast in the second quarter thanks to strong business sales, with HP retaining the title of global sales leader.
PC shipments in the second quarter totaled 61.1 million, an increase of 11.7 percent over the same time last year, according to Gartner, which had been forecasting growth of about 10.6 percent. IDC, meanwhile, recorded a 12.5 percent uptick in shipments to 58.8 million.
Gartner's preliminary numbers show strong demand in the professional market, suggesting a possible boost from the release of Windows Vista, the new operating system from Microsoft that was widely released early this year and that in many cases requires a PC upgrade.
What's Driving the Growth
IDC also tracked stronger-than-expected growth in the U.S., but said the main engine of growth remained the Asia-Pacific region, where sales were up some 20 percent.
Both firms credited major PC vendors with making adjustments to meet the needs of the both business and consumer customers and steering clear of focusing only on price.
The second-quarter data "sets the stage for solid growth in the second half of 2007 and 2008," said IDC analyst Loren Loverde.
"The success of HP and Acer as well as the rapid changes occurring at Dell in recent quarters underline just how dynamic the PC market is these days," he noted. "The market is not just about replacing systems at the lowest cost. System design, customer service, channel coverage, and market expansion are all playing key roles in winning business," Loverde continued.
Cloudy Vista
In fact, part of the growth in the U.S. market was driven by "aggressive competition and repositioning" among major vendors, who managed to sell more desktops than expected, though sales of desktop PCs were down year-over-year in the U.S., IDC said.
Global growth is still being drive mainly by strong consumer demand and in that area, the impact of the release of WindowsVista has been "minimal," according to Gartner. The firms did not say how much impact Vista had on business sales, but given Microsoft's strong recent results, it's likely many of those new PC sales were tied to software upgrade cycles.
Though there has been some negative feedback about Vista and some businesses have taken a wait-and-see attitude, Enderle Group Principal Analyst Rob Enderle said Vista may be slowly gaining traction faster than suspected.
"The bad news gets the press," he said. The crossover to the consumer market, meanwhile, is more likely to happen at the end of the current quarter — which includes the busy back-to-school PC shopping season — and the fourth quarter. "We'll have a much better handle on what Vista is doing for PC sales at that point," Enderle told the E-Commerce Times.
HP on Top
Globally, HP remains the top vendor, a title it took away from Delllast year. HP held an 18.2 market share, according to Gartner, and picked up ground on rivals as it grew faster than the overall market for the ninth straight quarter.
In contrast, the data show Dell continued to struggle with slower-than-average growth in all regions. Dell was especially weak in the quarter among consumers, in part because of the company's movement away from the low-cost market to protect profits as it undergoes a major overhaul under the guidance of founder and CEO Michael Dell.
HP held an 18.2 percent share of the global market, up from 15 percent a year ago, while Dell won 15 percent, down from 17 percent last year. China-based Lenovo held onto third place, with an 8 percent market share.
Dell has begun to reveal its strategy for reversing its slide,striking a retail partnership with Wal-Mart and launching the Vostrobrand to target small businesses.
Time Will Tell
It will take time to see if Dell can leverage the Vostro launch into additional sales, Gartner analyst Leslie Fiering told the E-Commerce Times.
"Right now, it appears to be mainly a branding exercise," she said. "It remains to be seen whether Dell can round it out into something more with support services and a bigger strategy."
Dell also needs to be cautious not to cannibalize sales from its enterprise class or products, which have higher price tags. Dell will need to ensure it differentiates the products aimed at large businesses. If done right, the approach could provide a needed boost. "These products may have high margins, even once discounts are applied," Fiering added.
The rising star of the PC vendors appears to be Taiwan-based Acer, which had 54 percent growth, enough to enable it to boost its market share from 5.2 percent to 7.2 percent, according to Gartner.
In the U.S., meanwhile, Apple may have jumped to third place overall, said IDC, which noted that final Mac sales data aren't yet available. Apple's U.S. market share was 5.6 percent during the period, up from 4.8 percent last year, according to IDC.