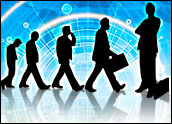 There are many reasons why a company might opt to conduct virtual meetings rather than face-to-face ones. Cost is one, particularly with fuel costs soaring; having a widely dispersed base of employees, clients or partners is another common one.
An increasing number of companies are also meeting up in the virtual world because of concern about the environmental impact of travel. An employee who flies just 30,000 miles a year puts more than 19,100 pounds of carbon dioxide into the atmosphere, according to Cisco's WebEx conferencing provider, which now boasts some 2.3 million registered users worldwide. Eliminating at least some of that can only be a good thing for the planet.
Today, the world of desktop videoconferencing is evolving rapidly to make virtual meetings better able to mimic the best features of those held in person. Think YouTube; think Second Life. Virtual meetings are getting better and better.
Another Level
For larger companies, a growing trend is telepresence, which uses life-sized, high-definition video with perfectly synced audio to help participants feel almost as if they are meeting face-to-face.
"Telepresence is really conferencing taken to another level," Bob Mahowald, program director for collaborative computing with IDC, told the E-Commerce Times.
The technology includes video cameras, lighting, microphones, speakers, at least one 65-inch plasma screen and back-end signal-processing technology, so it involves some investment in equipment, Mahowald noted. It also enables meetings with a very focused nature, he said. One application might be demonstrating a surgery technique for a class of medical students, for example.
Intel is one company that has been evaluating the feasibility of using telepresence for its meetings, but bandwidth requirements have so far prevented it from using the technology in its dispersed global sites, Cindi Pickering, principal engineer in Intel's IT Research and Innovation group, told the E-Commerce Times.
Currently, telepresence also doesn't support data-sharing or the visualization of information very well either, Pickering noted, so Intel is investigating ways to improve that. "There's only so much you can do in a video-only meeting."
Improving Integration
Another trend IDC sees in virtual meetings is improving integration with business processes, Mahowald said. "For smaller businesses especially, but really across the board, there's a trend toward integration that lets users bring business conferences and meetings into business processes."
WebEx, for instance, integrates with Salesforce.com for sales force automation, he noted; another example might be integrating meeting capabilities directly into a customer relationship management (CRM) application. "It's Web collaboration with a specific, focused purpose that helps buyers generate ROI for buying the applications and also helps them do their jobs better," Mahowald said.
Virtual Work Rooms
Perhaps the most exciting emerging area in virtual meetings is the use of 3-D conferencing technology and avatars, much like something you might see in Second Life.
"We're creating environments where people can get together and work as if they were in the same place," Greg Nuyens, CEO of Qwaq, told the E-Commerce Times. Qwaq is a Palo Alto, Calif.-based provider of virtual workspace technology.
Qwaq's virtual work rooms can take a variety of forms — conference room, office, auditorium, project room or even outdoor area — and they look like photographically rendered images of their real-world counterparts, Nuyens explained.
Stereo Sound
People are represented by avatars, which can range from the simplest geometric placeholders to realistic humanoids like those seen in Second Life. Voice over Internet protocol (VoIP) is built in, and the technology features stereo sound mimicking people's positions in the room. So, if someone is to your left in the virtual workspace, their voices will also seem to come from your left as you participate, Nuyens said.
Collaborators using Qwaq's virtual workspaces can view applications on screens on the virtual walls together, as though they were being projected in a physical conference room. Unlike other collaboration technologies, the workspace doesn't disappear when a meeting ends, Nuyens stressed.
Rather, it persists over time and remains just the way it was left — documents on the virtual tables and notes on the walls, for example — so subsequent meetings can pick up where they left off. Individuals can even enter the space separately after hours and make changes for the group to see next time it meets, he explained.
Enhanced Workspace Tech
Qwaq is planning to create special, customized template workspaces for virtual industries, Nuyens said, as well as simply getting "bigger, better, faster" for its clients of all types. It's also working on technology to create avatars with faces that are textured photographs of the people they're meant to represent, he said.
Meanwhile, Intel and Qwaq are collaborating on an enhanced workspace technology that will integrate 2-D desktop applications with 3-D information workspaces so that large numbers of users can easily visualize and manipulate enterprise information.
The technology, due next year, combines Qwaq's technology with a separate innovation, dubbed "Miramar," that Intel developed. Fifty Intel teams have already been using the technology and providing feedback for refinement, Pickering said.
"I think the thing people find most pleasantly surprising is the ability to really feel like there are other people in this world with you and to interact with them, instead of just talking to a black hole," Pickering explained. "When you can have a persistent team space and come together there at a prearranged time or visit opportunistically and notice someone's there and then talk to them, that's kind of fun."
Market Potential
As virtual meeting technology progresses further, there's no telling what new capabilities might emerge. One thing that is clear, though, is that there will be plenty of market potential.
Only 7 percent of small to medium-sized companies (SMBs) surveyed by JupiterResearch recently, for example, said their companies have adopted online meeting or collaboration software, Sonal Gandhi, an analyst with the firm, told the E-Commerce Times.
"There's a lot going on in this area, and only a very small percentage of the market has been penetrated," she said. "This market is just starting to take off."
---
This story was originally published on Oct. 18, 2007, and is brought to you today as part of our Best of ECT News series.
---