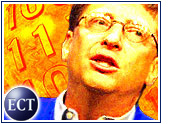 Microsoft chairman Bill Gates will take the witness stand Monday to testify in the government's ongoing antitrust trial against the Redmond, Washington-based software giant.
Gates's appearance will mark the first time he has testified in person during the proceedings. "Bill Gates is glad to have the opportunity to testify in the remedy hearings," Microsoft spokesperson Jim Desler said.
Gates's name is on a list of possible witnesses Microsoft issued in February.
Live and in Person
To date, the Microsoft chairman has appeared in the company's antitrust trial only in a video deposition that was used in court several years ago. In that testimony, Gates often relied on phrases that have become standard among executives appearing in legal proceedings: "I don't know" and "I don't recall."
This time around, however, Gates will "address the evolution of the PC industry and the critical role Microsoft, PC manufacturers and others have played in making computing accessible to consumers and [making] technology an engine for economic growth," Desler said.
'Significant Damage'
Gates is expected to stress that the remedy proposals set forth by the nine nonsettling states and the District of Columbia could do significant damage to the industry. He will take the stand when David Cole, senior vice president of Microsoft's MSAN and Personal Services Group, is finished giving his own testimony. Cole began his testimony Thursday and was the first Microsoft executive to speak during this phase of the trial.
If the trial is settled according to the wishes of the U.S. Department of Justice and nine states, computer makers will not be compelled to include some Windows add-on features. In the past, Microsoft has referred to the proposed settlement as "tough but fair."
Risky Business
Putting Gates on the stand could backfire. If he fails to speak convincingly in court, the move could have a negative impact on the case still being pursued by the nonsettling states and the District of Columbia, which want Microsoft to face harsher regulation than is included in the proposed settlement.
On the other hand, Gates was criticized for providing only videotaped testimony earlier in the trial.
Other Microsoft executives will testify after Gates. Chris Jones, vice president of the Windows client team, and Rob Short, vice president of the Windows Base OS Kernel team, are scheduled to take the stand, among other witnesses.