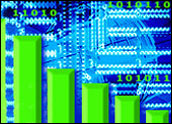 Technology market research giant Gartner has slashed its outlook for growth in spending on information technology in 2009 from 5.8 percent to 2.3 percent. Forecasts could decline further if the economy continues to weaken, the firm warned.
Total global IT spending could rise just 2.3 percent to US$3.5 trillion as many businesses cut their budgets for enterprise software, servers and communications infrastructure, Gartner said.
The news comes at a bad time for technology stocks, which have been battered across the board by the turmoil on Wall Street that began several weeks ago.
Tight Credit Markets
Tight credit markets are making it difficult for businesses to finance large IT outlays.
"Short to intermediate revolving credit is what most businesses use to make purchases and finance their inventories," Richard Williams, an equity analyst with Cross Research, told the E-Commerce Times. "The most leveraged guys will get hit first."
The U.S. government has taken steps to inject liquidity into the credit markets through massive bailouts of financial institutions, but it's not yet clear how effective that strategy will be. Still, the moves are critical to the broader economic picture, Williams said.
"The credit supply fell so sharply during the Great Depression that a lot of the businesses died out and laid off tons of people," he noted. "The trick now is to stop the hemorrhaging from a lack of credit before the body count gets too high."
Toll on Servers, Enterprise Software
The hardest hit sector of technology will be companies that make servers, notably IBM, HP and Dell, according to the Gartner report. Hardware sales are expected to decline by 4 percent.
Enterprise software will also show much slower growth than once expected. Previously, enterprise software spending was forecast to grow by 13.5 percent, but Gartner cut that to 8.6 percent on Tuesday.
That means companies such as Microsoft, Oracle and SAP could all end up cutting their growth forecasts. However, it could be months before the full extent of the impact will be known.
"The way I look at it — in the past, we've seen a lagged impact of enterprise software to economic downturns," Williams said. "There's usually a quarter or two after the economy starts to slow down that it manifests itself. I'm thinking the real question is not what the numbers they put up for Q3 are, but what their numbers will be for Q4."
Larger companies like Microsoft and Oracle will be able to weather the storm better than smaller players, he added, but even they are not immune to a slowing economy.
"If Microsoft had even a 10 percent hit to the top line, they could manage around that to a degree," Williams reasoned. "You can only do that for a limited time, though. When I look into Q4, the thing I grapple with is if the credit crisis gets worse, then we start looking at Q4 being down 10 percent or more."
Double Whammy for Microsoft?
A slowdown in corporate IT spending usually means a slowdown in the purchase of new desktop PCs, laptops and workstations, which also effects enterprise software companies like Microsoft, Oracle and SAP, Sid Parakh, an equity analyst with McAdams Wright Ragen, told the E-Commerce Times.
"Microsoft has an overwhelming market share on desktops," Parakh said. "If the rate of growth for PC sales slows down, you'll see an impact on Microsoft's growth forecasts.
Microsoft also has a commanding position in the server software market. If a slowdown in spending on server hardware occurs, that could also negatively impact Microsoft's growth forecasts, he said.