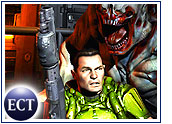 Facing down the nastiest alien creatures in "Gears of War 2" may seem like a cakewalk compared to the big boss battle awaiting the video game industry this Christmas — maintaining strong sales during an extremely challenging economic environment that has resulted in gaming retail outlets Circuit City filing for bankruptcy and Best Buy warning of consumer spending slowdowns.
Yet October sales figures give the industry some momentum as it heads into the crucial holiday buying period. The NPD Group, which researches consumer electronics market data, saw an 18 percent increase year-over-year, thanks to continue strength for Nintendo's Wii console, a price cut for Microsoft's Xbox 360 and the addition of highly anticipated games.
"In-home entertainment options tend to be fairly recession-proof," Anita Frazier, NPD gaming analyst, told the E-Commerce Times. "Video gaming is gaining favor as a form of entertainment among a broader group of consumers, so there are a lot of signs pointing toward its continued health. We believe the industry will realize (US)$22 billion in sales for the year, up from $18 billion in 2007. To achieve this, holiday sales must remain strong."
Consoles, Titles Sell Well
It's still hard to find on some retail shelves, but Nintendo has ratcheted up production of its $249 Wii console, and that helped the company maintain its dominion over the Xbox 360 and Sony's PlayStation 3 in October. Nintendo sold just over 803,000 units, compared to 687,000 in September.
Emphasis on making sure there are enough Wiis in retail has helped give the industry a clearer picture of true demand for the console, Frazier said, "and it remains really high. The continued success of the Wii has changed the way many industry players allocate their resources, and even changed some of their product development plans to include more non-traditional content."
Microsoft's price cut to $200 for its entry-level Xbox 360 console helped spark a 7 percent increase in sales, from 347,000 in September to 371,000 units last month.
The PS3 actually saw a month-to-month decrease in sales, from 232,000 to 190,000. But year-over-year, Sony's next-generation console, which is also a Blu-ray DVD player, jumped 57 percent, besting the other competing consoles.
"Given the substantial growth in the industry the last several years, there is every reason to believe that multiple systems can thrive in the marketplace simultaneously," Frazier said. "Of course, each platform wants to claim dominance, but dominance is no longer required to remain viable at market."
New Software in the Xmas Stocking
"Fable II," the sequel to Microsoft's best-selling role playing game, was the top-selling gaming software in October. But three Nintendo titles placed second, fourth and fifth: "Wii Fit", "Super Mario Kart" and "Wii Play." Another sequel, the well-reviewed "Fallout 3," was the third best-selling title. It is available on both the Xbox 360 and PS3 platforms, as well as PC.
A possible sour note amid all the October increases: The latest editions of the popular music games "Guitar Hero" and "Rock Band" did not make the monthly top 10 list.
Xbox 360 is expected to reap the big benefits from "Gears of War 2," released Nov. 11. The franchise, which has been marketed with unique commercials seen on prime-time television and in movie theaters during previews, has been "Halo"-esque for the 360, in terms of game play and impact on sales. But Frazier believes the biggest factor for Microsoft console sales in the current economy is slashing prices more than adding new titles.
"Earlier on, console acquisition stemmed more from the high-profile games," Frazier said. "While it is still vitally important to the health of any platform to continue to bring to market highly desired, platform-exclusive content, at this point, I think, the uptick in Xbox 360 sales is stemming from the price cut and its affordability now to a new group of consumers."