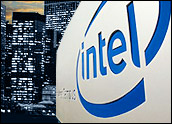 Intel's recently announced plans to acquire Fulcrum Microsystems, a privately held fabless Ethernet semiconductor company, may seem counterintuitive to some. Founded in 1999, Fulcrum develops integrated, standards-based 10- and 40-Gigabit Ethernet (GbE) switch silicon designed to deliver low latency and workload-balancing capabilities, along with superior network speeds.
By way of explanation, Intel said that Fulcrum's silicon complements its processors and Ethernet controllers, thereby enhancing solution performance, energy efficiency and service delivery. Intel also noted that 10-GbE networks are one of today's fastest-growing data center market segments, and that they can also be used to support evolving cloud architectures and converged enterprise networks.
Good enough. But what does any of this have to do with Intel — a vendor that most associate with PCs and servers?
Change may be inevitable, but public understanding of IT vendor evolution is mostly apparent in its absence. Businesses typically succeed by creating quality products and brands, and establishing them in the public consciousness via clever marketing campaigns. Those memorable impressions tend to stick to businesses long after they have expanded into other markets or focused on other areas of interest.
Intel's Bigger Story
Why bring up Intel here? First, the company's "Intel Inside" campaign has long been recognized as one of the IT industry's signature advertising strategies, driving more fundamental value (both in brand recognition and revenues) than virtually any other IT vendor promotional effort. Intel Inside cemented the company's qualities in the minds of consumers and business owners, and helped its Pentium solutions literally dominate personal computing.
However, its value in other Intel efforts was less clear — or even questionable, as when the company shifted attention toward wireless connectivity and ultra-mobility solutions.
Moreover, it has had little impact on the server and other solutions developed by Intel's Data Center Group (DCG). Not that it did anything to hinder those efforts, either. Depending on which market research firm you talk with, sales of various Intel server CPUs have roughly doubled over the past decade and occupy some 90 percent (by volume) of servers sold worldwide.
That point is certainly well known in the IT industry, but the company is also a major, if less recognizable, leader in numerous other data center markets.
Data storage has been a key Intel success story over the past few years, with its Xeon and other silicon powering everything from home and small office solutions (often based on Intel reference architectures) to a large majority of leading enterprise-class storage systems and RAID controllers.
Similar Intel success stories exist for other DCG focus markets including virtualization, cloud and supercomputing.
Look for the Intel Lining
The company's market leadership position also casts light on the Fulcrum deal. Intel collaborates with numerous networking vendors, including Cisco and Brocade, and Fulcrum isn't the first networking technology company it has acquired. But the move reflects a pair of core Intel strategies.
The first is a bet on high bandwidth Ethernet — the architecture of choice for growing numbers of networking companies and enterprises. Fulcrum's no/low latency and workload-balancing capabilities should make the company's offerings attractive to a variety of 10-GbE and 40-GbE solution providers and their customers.
Still, the expanding role of 10 GbE in cloud computing environments is the bigger story here. Intel's Xeon CPUs play critical roles in the vast majority of cloud and hyper-scale computing infrastructures and are critically important to cloud service providers of every sort. The company is also working closely with cloud storage vendors to enhance performance and efficiency (its collaboration with EMC on Atmos is a good example).
With these and other points in mind, Fulcrum should provide Intel with many of the technologies required to develop and deliver a broad portfolio of highly integrated, optimized, end-to-end cloud silicon solutions. That, in turn, will be of interest to Intel's traditional server, storage and networking OEM partners, as well as cloud service providers that prefer "rolling their own" system components.
A generation ago, Intel Inside described the company's singular effort to enhance any user's personal computing experience. Today, the company's acquisition of Fulcrum Microsystems underscores Intel's ambitious goal of being inside every part of the cloud.