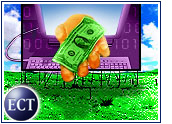 If it is true that you get what you pay for, is free Internet access really worth nothing?
Companies often say that their free Internet access, Web hosting or e-mail services are designed as entry-level offerings that allow reluctant Web consumers to dip their toes into the online pool before taking a full-fledged plunge. But while most of the once-free Web has been fenced off by fee-collecting toll booths, it is still possible to find a free gateway here and there.
For example, most free dial-up packages — such as those offered by Juno and NetZero — typically offer about 10 hours of free online time per month, just enough for most users to keep up with e-mail and do a bit of surfing.
"For that person who's never been online, it might be a good place to start," Forrester Research analyst Charlene Li told the E-Commerce Times. "But once a Web user gets some experience, they immediately demand more."
Audience Attrition
By most estimates, the number of people who fall into the "just starting out" category — at least in the United States — is shrinking rapidly. According to Nielsen//NetRatings, more than two-thirds of U.S. households are already connected to the Web. And an even higher percentage of Americans have Internet access at work or school.
Because the general population is becoming more familiar with the Internet — and demanding higher levels of Internet service — for-free models have had to shift their focus, particularly in light of attractive access technologies like broadband.
"The move to broadband and more expanded services is inevitable, though it's taking longer than everyone expected it would," NetRatings director and senior analyst Lisa Strand said. "People will still get by with the basics, but over time, broadband will dominate."
Most online services use free offerings as a way to get customers in the door, after which the companies typically try to sell upgrades to their customers. Address.com, which offers free Web-based e-mail accounts — much like Yahoo! and Hotmail — gives users the option to upgrade to a traditional POP3 e-mail account for 66 cents per month.
No Such Thing
While at one time it was relatively easy to find and sign up for free services online, it is becoming increasingly difficult to locate free offerings that provide anything more than the basics.
As an example, free Web-based e-mail accounts typically come with only a minimum amount of storage space. Users must upgrade their accounts to get additional space or to access their accounts via a standard POP3 connection.
Even free accounts that offer only basic services are not necessarily free; they often come at the expense of personal information. Most free accounts require users to fill out lengthy personal profiles. And some accounts, such as those provided by Address.com, require that users take part each month in offers from advertisers that require answering survey questions or providing more personal data.
Privacy Farm
Many free services have fallen by the wayside because the companies running them were not able to adapt their business models quickly enough to the changing economic environment.
For example, LookSmart this week announced plans to shut down its free BeSeen service, which helped Web designers get their pages listed in search engines' databases.
But according to analysts, free services will continue well into the future. Even those that offer basic, no-frills capabilities will continue to draw users, albeit in smaller quantities. And as concern over privacy grows, analysts say consumers will opt to pay for more robust services to avoid sacrificing all of their privacy.
"People are willing to pay for value and even to avoid giving away too much information about themselves," Harris Interactive analyst Lori Iventosch-James told the E-Commerce Times. "A lot of consumers will pay to keep from forking over too much data. But people are conditioned to get certain things for free on the Web. Getting them to change that habit will be a lot harder."