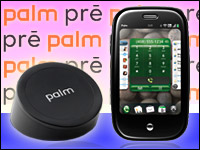 It's no accident that the new Palm Pre smartphone is compatible with Apple's iTunes. The man who helped Steve Jobs turn the iPod and its online music store into a digital revolution is the same man who has helped design the Pre and its well-reviewed webOS operating system.
Now that man, Jon Rubinstein, will be the new Palm chairman and CEO, replacing 16-year company veteran Ed Colligan. Shareholders have expectations that a Rubinstein-led Palm will sync with the kind of success Apple has enjoyed over the last 12 years.
Palm made the transition announcement after the end of Wednesday's stock trading. "Ed and I have worked very hard together the past two years, and I'm grateful to him for everything he's done to help set the company up for success," Rubinstein said. "With Palm webOS, we have 10-plus years of innovation ahead of us, and the Palm Pre is already one of the year's hottest new products. Due in no small part to Ed's courageous leadership, we're in great shape to get Palm back to continuous growth, and we plan to keep the trajectory going upward."
Colligan now heads the private equity firm Elevation Partners, while Rubinstein, who joined Palm in late 2007, now gets the challenge of forging Palm's new path in smartphones and mobile operating systems.
A Proven Track Record
Wall Street appears supportive of the decision; as of Thursday afternoon, Palm shares had risen over 11 percent.
"Palm and Sprint had promised that the Pre would be launched in the first half of [the calendar year], and Rubinstein delivered on that promise," Lawrence Harris, a telecommunications analyst atCL King, wrote in a note to clients. "Under Rubinstein, an experienced former Apple executive who ran the iPod division, we expect that Palm will focus on innovation and execution, areas where Palm had lost its edge. We therefore view the appointment of Rubinstein as CEO positively."
The Pre's weekend launch did not go off without a hitch, despite mostly positive reviews for the handset and the webOS. Some stores ran out of units early. While that could conceivably act as a buzz-booster, it's also a dangerous development with a new iPhone on the way and a cheaper US$99 iPhone 3G now in the mix.
However, officials at Sprint, the Pre's exclusive carrier, said the Pre set new records for single-day and weekend sales. "Initial shipments of the Pre to many Sprint, Radio Shack and Best Buy outlets last week were nominal," Harris wrote. "We believe a second round of shipments started to arrive at Sprint stores in the past 24 hours."
Rubinstein's New Challenge
Palm moved Rubinstein into the leadership role so soon after the Pre's launch in order to make sure Wall Street and competitors hear its message of change loud and clear, according to Charles King, Pund-IT principal analyst.
"You want to make sure you do things as you move in new directions that are smiled upon by both your customers and your shareholders," King told the E-Commerce Times. "You want to make sure that your company is in the hands of somebody who understands its legacy business — but the competitive situation that Palm is looking at today is very different than it was five or six years ago, or even a couple of years ago, for that matter."
Palm ascended to industry heights with its line of personal digital assistants (PDAs) in the late 1990s, and it even had what many would consider the very first smartphone with its Palm Treo. However, the company mishandled execution, King said, as all PDAs began to morph into smartphones with increasingly sophisticated computational capabilities. Soon the buzz was all about Research In Motion's BlackBerry devices, and then Apple launched the iPhone.
Giving Palm's corner office to Rubinstein — whose name once appeared on short lists as the possible heir to Apple CEO Steve Jobs — comes with risks. Palm is playing from farther back in the smartphone field, but the Pre does give Rubinstein momentum as he takes over.
"The Pre is a great move from them," King said, "but the company needs to be able to execute from a broader strategic point of view to capitalize on the same market — and that's what I think Rubinstein's move to the lead chair really comes down to. Not only do they want to develop the reputation as a company that can support and produce revolutionary new products, but you want to make sure you have somebody leading the company widely regarded as a market revolutionary."