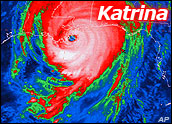 The FBI and other federal law enforcement agencies are investigating allegations of fraud by small charities — or organizations posing as such charities — that arose in the wake of Hurricane Katrina. Online bill payment service PayPal, stepping up its security in response to the concerns over online theft of funds intended for hurricane victims, froze the accounts of a number of charitable projects.
Legitimate — and illegitimate — charities alike were frozen out by the new policy, which arose when reports that thousands of fraudulent Web sites were sprouting up all over the world, seeking to steal money intended to help Katrina victims.
Potential donors are informed on PayPal.com that they should donate through "eBay Giving Works, the dedicated program for charity listings where you can buy items that support nonprofit organizations." PayPal also provides links to donate to United Way's relief efforts on its site.
Something Awful
One of the legitimate sites whose donations to Katrina victims via PayPal were short-circuited is SomethingAwful.com, a humor site. The site raised close to US$30,000 in less than half a day, earlier this month, but then PayPay froze the funds, fearing fraud.
The site's main Web servers are located in downtown New Orleans and were offline due to flooding, but Something Awful founder Rich Kyanka asked visitors to donate to the Red Cross from a temporary page.
"Some people are e-mailing me, asking if they can donate to SA to help with our server move and downtime and temporary hosting and stuff. Don't worry about us, we'll be fine," Kyanka said. "If you really want to make a difference, donate to the Red Cross Relief Fund link above. They need it more than we do."
Kyanka set up a PayPal account specifically to handle the effort. Donations poured in at a rate of almost US$3,900 per hour, and then PayPal shut down the project, and its automated message explained that it had received "more than one report of suspicious behavior from your buyers."
Something Awful then directed visitors to donate directly to the Red Cross. Kyanka said he originally setup Something Awful's own fund so he could send free merchandise to the funders.
PayPal may have been prudent to move so quickly. There are reports of more than 400 purported Hurricane Katrina Web sites and related domain names established in the wake of the killer storm. The new names registered include URLs like katrinaourtsunami.com, katrinacleanup.com, katrinahelp.com, katrinadonations.com and katrinarelief.com.
Many of the new sites were accepting payments through PayPal, but, there was no way for the service, or for donors, to confirm where the monies were being sent, or if they were being sent to victims of the storm at all.
FBI Probe
The Federal Bureau of Investigation is eyeing the new sites, looking for scams. "People who want to make a donation or contribute to a cause should actively seek out reputable organizations and then contact them by telephone," said FBI spokesman Paul Bresson, based in Washington D.C. "The point is that they initiate the contact on their own."
The online auctioneer eBay.com recently halted online auctions of several Katrina-related URLs, like ourtsunami2005.com, which asked that bidding start at $15,000, and which promised that half the funds would go to the American Red Cross.
The reason for the concern is that federal investigators — and credit card investigators too — found that there were nearly 200 fraudulent tsunami-related sites which sprung up after the South East Asian disaster earlier this year.
Fraudsters are also sending phishing e-mail, seeking to dupe unsuspecting individuals into clicking on their fake links. A spokeswoman for the Federal Trade Commission, in Washington D.C., said that the e-mails were even purporting to come from the Red Cross itself.