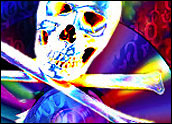 Federal authorities have broken up a massive piracy ring that they say was capable of producing millions of counterfeit music and software CDs.
Three California men face a range of charges after being indicted by a federal grand jury in San Francisco on counterfeiting charges. The charges resulted from an investigation and series of raids that authorities say produced the largest ever haul of illegally made CDs. Two others face lesser charges.
The ring was reportedly producing fake CDs of Latin music and software purporting to be made by major software vendors such as Symantec. Authorities seized some 2,000 CD stampers, which are used to make the discs look legitimate and said that with each one able to produce 80,000 copies, the ring had the potential to produce some 160 million discs over time.
Ironically, the stampers were used to imprint discs with a warning: "Unauthorized copying is punishable under federal law."
"The allegations of massive piracy of music and software reflect the potential loss of millions of dollars to the artists and businesses who legitimately own the copyrights on these works," U.S. Attorney Kevin Ryan said in a statement.
Spreading Fast
The three men — Ye Teng "Michael" Wen and Hao "Kevin" He of Union City, Calif. and Yaobin "Ben" Zhai of Fremont, Calif. — face between 7 and 10 charges of counterfeiting. They are all due back in court later this month and face penalties of up to five years in prison and fines of US$250,000 on each count.
Prosecutors plan to allege that the three were just one part of a vast and complex network that enables pirated material to reach consumers — a network that includes brokers, replicators, assemblers, packagers, printers, distributors and retailers. In fact, one CD purchased in a Chicago music store was traced back to the California ring.
The indictments came a week after raids on 13 locations in California and Texas, part of what law enforcement has dubbed "Operation Remaster." That effort targets replicators, who actually copy fake CDs, as the main core of piracy networks.
Worldwide Problem
Software makers and recording labels alike hope that such law enforcement activities will be just one part of a massive effort to cut down on piracy, which costs them millions each year.
The Business Software Alliance (BSA) estimates that some 35 percent of all software being used worldwide is counterfeit, at an annual cost of $33 billion to the industry. Many of those using the fake programs, the group believes, may not even be aware of it, having purchased it from seemingly legitimate vendors.
"Software piracy continues to be a major challenge for economies worldwide,"said BSA President and CEO Robert Holleyman.
While tough police action is necessary, education is also an important component of the push to reduce the amount of illegal software on the market. "Consumers and businesses don't get what they think they're getting," he said of such software. "They're not getting the same quality assurance, the same support."
Some software vendors have also taken matters into their own hands.
Last month, Microsoft sued several third party re-sellers, saying they had continued to sell counterfeit Microsoft products after being notified by the company. Microsoft has been one of several major software vendors to make hard pushes to curtail piracy, using tips solicited on its Web site to begin investigations into the use of unauthorized software.