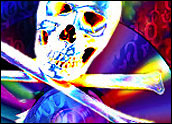 Microsoft has filed lawsuits against eight software re-sellers, saying that consumers helped lead them to the firms accused of selling pirated versions of the company's software.
Microsoft said it sued eight companies located in Arizona, California, Illinois, Minnesota and New York, with the information used in the suits gathered during investigations sparked by calls to its anti-piracy hotline.
Serious Business
The software giant said the firms sold counterfeit or unauthorized copies of Microsoft Windows and related software components and that it made attempts to resolve the disputes before filing the actions.
"Microsoft does not take legal action lightly," senior attorney Mary Jo Schrade said in a statement. "We remain very serious about protecting honest software resellers and consumers from the illegal activities of software counterfeiters."
Two of the suits came about after the target companies allegedly violated earlier agreements with Microsoft.
Microsoft has long taken a hard-line stance against piracy, as has the software industry in general.
The Business Software Alliance (BSA) has undertaken extensive public education efforts aimed at getting consumers to report suspected piracy. An independent study by IDC commissioned by the BSA found that 35 percent of software worldwide is unlicensed, representing some $33 billion in lost revenues for software publishers.
Pirates of the Strip Mall
Microsoft sued the following companies: BWT Industry Technology Service Inc., which does business as Computer Max Co. of Sierra Vista, Ariz.; Data Day USA, Inc., of Vallejo, Calif.; MicroCity4Less.com of Torrance, Calif., which operates under a number of names; Winvtech Solutions, Inc., of South El Monte, Calif.; Ion Technologies of Minneapolis, Minn.; Compustar Co. of Brooklyn, N.Y.; and Chips & Techs of New York, N.Y.
Most of the suits deal with alleged piracy of Windows XP, though some include other programs, including Office XP and SQL Server software.
Microsoft said such pirated software hurts consumers by putting sub-standard product into the market, and hurts legitimate re-sellers by making it difficult for buyers to distinguish between legitimate and illicit software.
The suits come after Microsoft's controversial Windows Genuine Advantage (WGA) program launched. That effort offers Windows users who want to get downloadable updates a suite of upgrades to their software, if they first submit to a screening to determine if their software is legitimate.
Many analysts believe that program will not dent serious software piracy, though it may help lead Microsoft to some pirates who sold illicit product to unwitting buyers.
"The bigger groups, the ones that are pirating the most software worldwide, the ones really eating into revenue — they aren't affected [by the screening]," said Yankee Group analyst Michael Goodman.
Global Problem
Microsoft has said that its efforts would eventually lead to real software pirates and the batch of lawsuits seem to be an attempt to prove that WGA has value for stopping piracy.
On a global level, the problem of software piracy is seen as potentially undermining growth in key emerging markets. The IDC study conducted earlier this year found that as much as 90 percent of the software used in China is counterfeit, a rate outpaced by Vietnam, at 92 percent and 91 percent in the Eastern European country of Ukraine.
Joel Ronning, the CEO of e-commerce provider Digital River, which helps software publishers sell their wares online, said a technological solution to software piracy may lie in the form of next-generation digital rights management.
"Piracy is a huge concern for every software publisher," Ronning told the E-Commerce Times. "Especially with markets expanding into developing countries and economies, companies want to protect their property to the greatest extent possible."