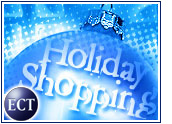 Shoppers spent US$878 million online in the week after Christmas, helping to push total sales during the holiday season to $10.7 billion, according to a study released Tuesday by Goldman Sachs and PC Data Online.
Sales for the last week in December increased 60 percent over the $542 million spent during the same period in 1999. The burst of spending helped the overall holiday season grow by more than 100 percent over the $5.2 billion spent in 1999.
The latest numbers back up a series of earlier reports suggesting that more than $10 billion had been spent online during the holiday buying period.
"Despite the downswing in the economy in recent weeks, online spending during the holiday met most expectations," said Cameron Meierhoefer, Internet analyst for PC Data.
Post-Christmas Rush
The numbers suggest that buyers continued to spend money online after the holidays were over, although not in all categories. During the week after Christmas, shoppers spent nearly twice as much as during the week before on computer hardware, clothing, and home and garden accessories.
"Even though sales recovered from an earlier slowdown, the results were not evenly distributed across categories or companies," said Anthony Noto, Internet analyst for Goldman Sachs.
In fact, Noto said while consumer electronics sales more than doubled over a year ago, the toys category, one of the biggest gainers in 1999, grew by 37 percent over last year.
Earlier this month, Goldman Sachs and PC Data released a report estimating that in the nine weeks leading up to Christmas, U.S. shoppers spent $9.8 billion online.
Satisfied Customers
The Goldman Sachs/PC Data Online study also backed up earlier reports showing that customers are largely happy with their experiences buying online.
The study said more than 80 percent of Net consumers said they were likely or extremely likely to shop again online, while 58 percent said they found a better overall shopping experience online this year compared to last year.
A report from the NPD Group released earlier this week pegged the number of satisfied customers above 90 percent.
Brick-and-Click Craze
While Amazon.com remains the clear online leader, the Goldman Sachs/PC Data report underscores the increasing growth of traditional retailers on the Web. A host of retailers, including Wal-Mart, Sears, Target and J. Crew, had e-tail sites among the 20 busiest.
During last year's holiday season, just four old-world retailers were on the top 20 list, Meierhoefer said.