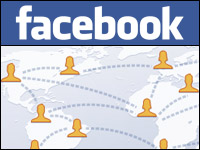 You may have seen the link recently sent to you by one of your Facebook friends: If the social network were its own country, it would be among the five largest in the world, thanks to its 300 million members.
That "country" includes fertile, undiscovered territory for online advertisers, as represented by the announcement Tuesday of an agreement between Facebook and media measurement giant Nielsen involving the collection and packaging of data from those members.
In announcing the deal, Facebook highlighted its deep membership pool, and Nielsen put the spotlight on its data measurement experience for the new program, called "Nielsen BrandLift."
"Facebook is an increasingly vital link between consumers and brands," Nielsen Online Division CEO John Burbank said. "We will now be able to add deep knowledge of this important social network to our unmatched media measurement and consumer insight across all three screens. Together we will be able to provide the missing elements to clients seeking better understanding of how Web content and online advertising affect consumer behavior," he explained.
"The combination of our unique ability to quickly and effectively poll a sample of our more than 300 million users and Nielsen's expertise in data analysis will give marketers access to powerful data they can use to understand and improve current and future campaigns," added Facebook Chief Operating Officer Sheryl Sandberg.
Opt-In Surveys
Nielsen and Facebook plan to provide the data by setting up brief, one-to-two-question surveys that will give advertisers the key data they've always desired, whether it's "Mad Men's" Don Draper doing the asking in the 1960s or a twenty-something account executive working in 21st-century new media: Will the ad push them to buy the product/service advertised? How are they digesting the ad's message? Will the ad be easily remembered?
Facebook is promising a "seamless" integration in the social network user experience. The surveys will appear in the section of the page where users currently see ads. The surveys are of an opt-in nature, and no personal information will be asked. Also, BrandLift will make sure that if a user has opted in to answer a survey, they won't be bombarded with additional polling requests.
Nielsen is promising quicker and more accurate marketing information, elements that have become the holy grail of advertisers as they plan to spend more than US$700 million online as of August, according to figures Nielsen provided. $108 million of that will be spent in the blogging and social network space alone.
The View From Competitors
Unbound Technologies is one of several companies that have arisen to provide crucial social network intelligence to marketers and advertisers. Despite the strength of both the Facebook and Nielsen brands, both companies have their work cut out for them, Unbound CEO Chase McMichael said.
"Advertising and the advertising medium is not really the basis of social networks," McMichael told the E-Commerce Times. "It's a community of conversation. The problem is the ads themselves. They're really a one-way vehicle. They're not inducing conversation and a one-to-one word of mouth type of interaction."
Although much depends on the design of the survey questions, McMichael said there still may be questions about the reliability of the results. "What is the quality of the individuals providing the information? The question comes down to this: Just because a person is on a social network, when they opt in to do a survey like this, is that survey of a higher quality? And what is the depth of these surveys?"
A mini-industry already exists involving companies that create Web-based surveys, McMichael said, not to mention incentivized surveys that use games and contests to get user to provide information on products and services.
"What is the end value for consumers in taking these polls?" McMichael asked. "These opt-in polls appear to be more like seeing if people are being receptive, but how does this increase lift? Over a broader campaign, social data is important to making a decision but this is highly ad-centric, per-ad display data vs. consumer interaction with the overall brand products."