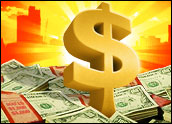 Just two months after venture capital firm Bay Partners launched a fund for Facebook developers, Facebook itself and two of its backers have done much the same thing with a new US$10 million program.
Dubbed the "fbFund," the program aims to create continuing incentives for the development of Facebook applications by doling out grants of between $25,000 and $250,000 for anyone interested in building a business on the Facebook Platform. No strings are attached, other than the requirement that the funds be used to build the company on Facebook. Additional capital could follow later.
Facebook founder and CEO Mark Zuckerberg announced the fund on Monday during a talk at the TechCrunch40 conference in San Francisco. The program will be administered by Facebook and funded by Accel Partners and The Founders Fund, both backers of the wildly popular social networking site.
"We are forming this fund to help grow the Facebook application ecosystem," Facebook said. "By decreasing the barrier to start a company, we hope to entice an even larger group of people to become entrepreneurs and build a compelling business on Facebook Platform. We hope this is also a funding model that other venture capitalists will follow."
30-Day Turnaround
The fund is open to any individual or company anywhere in the world who has not previously raised any formal venture funding. An online submission process will be created in the next few weeks, Facebook said; until then, business plans can be e-mailed to [email protected].
Proposals will be reviewed by an advisory committee that includes Reid Hoffman, founder and chairman of LinkedIn; Josh Koppelman, founder of First Round Capital; and Rajeev Motwani, professor of computer science at Stanford University and an early advisor to Google, Facebook said.
Approval will come from an investment committee that includes Zuckerberg along with Chamath Palihapitiya, Facebook vice president of product marketing and operations, and two Facebook board members representing Accel and The Founder Fund. The goal is to get decisions to applicants within a month, Facebook said.
The Founders Fund and Accel Partners will have the right to fund applicant companies first, but otherwise no equity or debt will be associated with any grant made.
Most venture capital funding, by contrast, requires equity in return.
'A Smart Thing'
Founded in 2004, Facebook currently has some 41 million users. It opened up its application programming interface to developers in May, allowing for the creation of applications tailored to the site.
"This is a smart thing for Facebook to do," Greg Sterling, founder of Sterling Market Intelligence, told the E-Commerce Times. "They want to keep the momentum going, and to get people engaged in creating rich applications that go beyond the level most are at now."
Google did something similar with Google Gadgets, Sterling noted. Ultimately, one result of the fbFund could be a group of startups that launch only Facebook-specific applications, he said.
"For Facebook, it's a small amount of money, but this could encourage continued development after the initial novelty dies down," Sterling said.
An Inspiring Mashup
"Facebook is trying to diversify and get deeper, with more serious and complicated applications," Mike Gotta, principal analyst with Burton Group, told the E-Commerce Times.
A recent mashup of Salesforce.com and Facebook dubbed "Faceforce," for example, highlights some of the platform's potential to go further than most applications do so far, Gotta explained.
"In the long run, the deeper applications that do something to cause a 'wow' factor — like the Faceforce mashup did — spark ideas," Gotta said. "That's important not just to Facebook, but to other social networking platforms as well, providing ideas for how to build more purposeful applications.
"Right now, what we have just scratches the surface," Gotta concluded. "These new types of applications are much harder to build, and special funds like this might be necessary to make them happen."