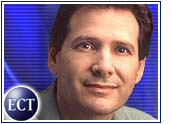 Priceline.com (Nasdaq: PCLN) fell 1 1/32 to 3 1/4 Wednesday following reports that Maryann Keller, the former auto industry securities analyst who headed the e-tailer's auto group, resigned last week.
Keller's departure reportedly coincided with the exit of chief financial officer Heidi Miller.
The Norwalk, Connecticut-based company said on Friday that Miller left "to pursue opportunities and apply her talents in a more established business environment." She had been on the job less than a year, after coming to the name-your-own-price pioneer from Citibank in February. Two other Priceline officials have reportedly resigned as well.
Keller joined Priceline in July 1999, moving to the e-tailer from ING Barings. An influential auto analyst and author of two books, Keller had been with the firm's Furman Selz unit since 1986. When she joined Priceline, Keller said she saw its service as "revolutionizing the automotive industry."
Also on Friday, Priceline reported a third-quarter loss of $2 million (US$), or one cent per share, and predicted declining revenue for the fourth quarter. The company also said it would lay off 87 of its 535 employees in a move to cut costs.
Priceline's woes have compounded in recent months. Not only is Priceline facing a civil investigation from the Connecticut Attorney General, the company is looking at class action suits alleging that its directors misled shareholders about growth potential. In addition, it has been reported that spokesperson William Shatner does not himself use the service. The flurry of negative reports have added to Priceline's financial troubles caused in part by slumping airline-ticket sales.
Priceline's gas-and-grocery partner, WebHouse Club, is in the process of winding down its operations, reportedly because it was unable to raise the capital needed to meet its goals for the next year.
Priceline shares, meanwhile, are trading near an all-time low. In March, the stock set a high of 104 1/4.