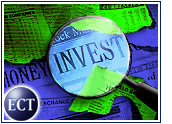 [email protected] (Nasdaq: ATHM) was up 1/4 at6 1/8 early Tuesday after the provider of high-speed Internet accesscalled off plans for a joint venture with the Chello Broadband unit of Dutch broadband provider United Group.
The deal would have formed a new broadband subscriber company, Excite Chello, to operate in international markets.
[email protected] said United Group wanted to change terms of the venture because ofmarket conditions, but the companies could not come to an alternativeagreement.
[email protected] also said that the complexity of the proposed deal, which involved"multiple shareholders with differing opinions and interests," would haveposed a risk to its international expansion plans. The company said it has no obligation to United Group as a result of its decisionto walk away from the talks, and is free to pursue other partnerships.
"We continue to regard international as a key element of [email protected]'sbusiness," said George Bell, chairman of the Redwood City, California-basedcompany. "We remain confident in the overseas opportunity and will continueto grow our position."
Bell also said that [email protected] has seen faster growth in traffic and in overseasbroadband subscribers during the last few months than in the first half ofthe year. Revenue from international operations rose more than 300 percentin the third quarter from a year earlier, and daily page views in Septemberwere 200 percent above year-earlier levels, the company said.
Overall, [email protected] saw third-quarter pro forma revenue rise 51 percent from ayear earlier to US$169.9 million. The company posted a loss beforeextraordinary charges of $41.6 million, or 10 cents per share, compared witha loss of $4.2 million, or one cent, in the same period last year.
When [email protected] reported the results last month, the company said it expectedfourth-quarter revenue to grow at a "low double-digit rate," with a lossbefore charges of 8 to 10 cents per share.