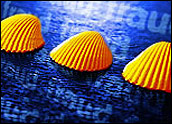 An elaborate Internet scam involving fake banking documents worth approximatelyUS$3.9 billion has been shut down by the International Chamber of Commerce (ICC), London-based ICC Commercial Crime Services announced Wednesday.
According to the ICC, the fraud involved the use of fake European bankingguarantees on at least 29 different Web sites that convinced potential clients to invest in "get rich quick" projects and finance schemes.
In addition, theInternet domain names used to facilitate the Web scam incorporated the names of such majorfinancial institutions as Euroclear Bank, Eurobonds and Bloomberg.
"It's really hard to stop someone from using your name, using your logo, orotherwise misusing your brand," Susan Grant,director of the National Consumer League's Internet Fraud Watch, told the E-Commerce Times. "This illustrates that you can't always believe what you see on the Net."
Grant commented that there have been plenty of cases of "either liftingthings from other places or dummying up something that looks very similar tothe official seal or insignia of well-known organizations."
The scam artists apparently paid hundreds of thousands of dollars to have the fake documents issued, and then used the documents to promise high returns from low-risk financial instrument trading.
Matter of Time
The fraud bust occurred at the end of a six-month investigation that was initiated afterseveral financial institutions alerted the ICC to the appearance of highlydiscounted European banking guarantees on several Web sites.
So far,four arrests have been made in San Francisco, California and Switzerland, with moreexpected to follow.
"We can monitor the Internet for any breaches of a company's intellectualproperty, and work with the relevant bodies to eliminate any fraudulenthyperlinks or Web sites," ICC Cybercrime Unit assistant director Jon Merrett said. "The big risk is that these frauds could rock thetrust that the banking, finance and insurance industries are built on."
Seeing a Cyber-Mirage
Grant said that the majority of the Internet banking fraud complaints made to the National Consumers League concern phony investments supposedly designed to help people avoid taxes by placing money in offshore banks.
"Although I haven't heard of this particular type of Internet banking fraudyet, it doesn't surprise me that crooks would use this new medium and takefull advantage of it to create a mirage of legitimacy," Grant said.
Prevention Difficult
Grant said that it is very difficult for companies such as the financialinstitutions involved in this case to prevent this type of fraud fromoccurring.
She cited similar cases of fraudulent uses of insignias andlogos belonging to the Better Business Bureau and various government agencies — and eventhe National Consumers League itself.
"If I was going to get involved in an expensive investment, I might actuallycheck with the banks for other references on the site to make sure it isvalid," Grant said. "The higher the ticket item, the more precaution people really shouldtake."
Net Fraud Boom
In February, the European Commission announced the creation of a three-year"Action Plan" meant to reduce "the growing problem of fraud andcounterfeiting on (credit) cards and other non-cash means of payment widely used forcross-border transactions."
According to the EC, online scam artists contributed to a 50 percentincrease in credit card fraud in the European Union (EU) last year, ringingup $553 million in illegal transactions.