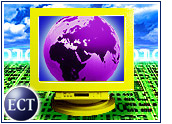 European shoppers will spend US$2.2 billion online this holiday season, a figure that would nearly match total European online sales in all of 1999, according to a report released Monday by Forrester Research.
"As the number of online shoppers grows over time — in the first six months of this year alone, the number nearly doubled — retailers have found more justification to migrate their offering to the Net," Forrester analyst Abigail Leland said.
Thirty percent of all online sales this year in Europe will come during the holidays, Forrester predicted. By comparison, however, holiday sales in the U.S. are expected to be more than four times greater than in Europe.
Big Spending in Germany
Among European countries, Germany will spend the most online this holiday season: $609 million, or 31 percent of all 2000 online sales for the nation, Forrester said.
Following Germany will be the UK, where e-tailers will rake in $565 million, accounting for 29 percent of all online sales this year in the country, according to Forrester. In France, holiday shoppers will spend $249 million online, or 36 percent of the year's national online sales.
"In addition to enjoying better selection from trusted retailers, Europe's online consumers simply gain trust as they spend more time online," Leland said. "In Europe's biggest Net economies, such as the UK, consumers have been online long enough for the effect to hit. In countries like Spain and Italy, the waves of free-ISP [Internet service provider] Internet initiates who first came online last Christmas will hit their first-year mark and make their first online purchases this holiday."
Learning from Mistakes
Forrester found that some European e-tailers learned from the fiascoes — including the understocking of merchandise — that plagued U.S. e-tailers last year, and upgraded their customer service and made sure to have additional products on hand.
However, there is evidence that some European e-tailers are still lagging in customer service. A study released earlier this month by Andersen Consulting found that 39 percent of orders placed with European e-tailers were not completed.
Forrester made three specific recommendations that would help "reassure Net buyers during their early online purchases." The research firm said that e-tailers should provide a simple, highly visible statement on payment guarantees, an easy-to-locate phone number, and peer advice — such as top-10 lists and user generated product reviews — to encourage customers not to abandon purchases at the last minute.
Make it Easy
"Smart retailers will make online shopping a no-brainer by packaging convenience offers — top-selling products complete with wrapping service, delivery coverage and shipping costs — that send users straight from the home page to the checkout," Leland said.
Leland added that online retailers could also employ "low-tech, text-only e-mails that encourage users to 'pass it on' — reaching consumers that aren't particularly Web-savvy yet but who will recognize a good offer when they see it."