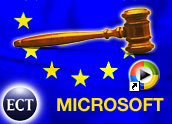 European Union antitrust regulators have given Microsoft more time to prove it is complying with a requirement to fairly license its server software communications protocols.
Microsoft now has until April 23 to respond to charges from the European Commission, which has said that Microsoft has yet to fully comply with a condition of its 2004 antitrust ruling. The ruling requires the software giant to license parts of its code in order to help third-party software firms make products compatible with the dominant Windows operating system.
The commission in March said it would give Microsoft four more weeks to provide evidence it was complying, saying that after April 3 it would begin to levy daily fines of up to US$4 million for each day the company continued to lag in compliance.
Efforts Fall Short
Microsoft has repeatedly said it has been moving aggressively to comply with the requirement, spending thousands of hours and millions of dollars to compile the code that third parties would need to be able to make compatible and interoperable products.
Early attempts were deemed by the EU and a third-party evaluator to fall short for technical reasons. More recently, price has become a sticking point in the discussions, with regulators saying Microsoft had set the price for viewing its code — one of the more closely guarded pieces of intellectual property in the tech field — too high, discouraging enrollment in the program.
Rattling Sabers
Microsoft and the EU appeared headed for yet another showdown as recently as late last week, when the union's chief antitrust regulator, Neelie Kroes, told the European Union parliament that Microsoft was continuing to rack up market share in the server space, a situation she called "unacceptable."
Kroes cited data showing Microsoft with a nearly 75 percent share of the server software market today, compared to less than 40 percent when regulators began their antitrust inquiry into Microsoft in 2002.
Earlier this month, regulators said Microsoft's latest efforts showed "no significant innovation" and as a result did not justify the relatively high licensing fees they said Microsoft was charging.
Since then, Microsoft announced its first customer for the European code-sharing program, saying that Quest Software had enrolled in the program. Microsoft said Quest agreed to pay ongoing royalties equal to 5.25 percent of all future sales of products that leverage the Windows communications protocols.
A Sore Spot
The code-sharing requirement has long been the major bone of contention in Microsoft's antitrust dealing in Europe. This also has helped make the company's road there more difficult than the dealings it had with regulators in the U.S., where Microsoft was also found to have acted in violation of antitrust laws in connection with its Internet Explorer browser, and in South Korea, where the Windows Media Player has been the focus of inquiries and penalties, Yankee Group analyst Laura DiDio told the E-Commerce Times.
The EU has already issued a record fine against Microsoft and required it to release a version of Windows that did not contain the Media Player, which Microsoft did last year. Meanwhile, the European Court of First Instance is slated to rule later this year on Microsoft's appeal of the overall ruling.
"The fact that Microsoft has been in a position of trying to comply but being unable to for so long in Europe makes it a unique situation," DiDio noted. In other jurisdictions, there have been often harsh penalties and requirements for changing products, after which both sides are able to move forward.
"Microsoft remains under scrutiny by regulators everywhere, but Europe seems to be a special case," she added.
A Difficult Regulatory Environment
Nevertheless, regulators may be taking their cues from rivals who are not interested in enrolling in the code program but who are eager to see the playing field tilted in their favor by having harsher penalties placed on Microsoft.
Europe is proving a difficult regulatory environment for Microsoft rival Apple as well, with several jurisdictions there considering ordering that its iTunes Music Store and iPod be opened up to be compatible with other vendors' products.