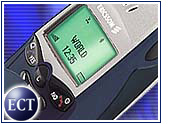 American depositary receipts for Ericsson (Nasdaq: ERICY) were down US$1.81 at $11.19 early Friday after the Swedishmobile-phone maker said results for the last quarter were weaker than analysts hoped,and that it would stop making its own products, outsourcing productioninstead.
Ericsson said sales and orders were higher in the fourth quarter endedDecember 31st than a year earlier, and in line with expectations.
"We havegenerated a solid growth, and in mobile systems we have once again managedto grow even faster than the market, with good profitability," saidpresident and chief executive officer Kurt Hellstrom.
However, Hellstrom added that "the results in our mobile phones business, while in linewith expectations, remain unsatisfactory."
Delivery failures from keysuppliers and an "inadequate product mix in the entry-level market" hurtsales and led management to take "costly restructuring measures," Hellstrom said.
Components manufacturer Flextronics will take over phone production forEricsson, a plan that will save money and allow the company to keep itsstrong market position, Hellstrom said. Effective April 1st, Flextronicswill take over all Ericsson's facilities in Brazil, Malaysia, Sweden, the UKand some of the company's Lynchburg, Virginia plant.
"In light of current market dynamics, we have taken a fundamental look athow we run the consumer business, and we have decided to completelyoutsource supply and production of mobile phones," said Hellstrom.
Ericsson said it expects full-year sales to be 15 to 20 percent aboveyear-earlier levels, as benefits from the restructuring plan kick in.
"Amore uncertain economic environment and a more cautious capital marketcontribute to more uncertainty also in our industry," the company said."However, we remain optimistic about our business."
Some 4,200 employees will join Flextronics, but there will be a "redundancy"of about 600 workers in Sweden, Ericsson said.