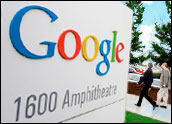 After a couple of weeks of discussion and speculation in the media-obsessed blogosphere, Google CEO Eric Schmidt has finally gone on the record and admitted that his company has considered buying a newspaper but decided against the idea.
In a wide-ranging Thursday interview with the online Financial Times, Schmidt gave no specifics about potential acquisition targets, but did say that one of the reasons Google won't buy a newspaper soon is that the company wants to avoid crossing the line between "infrastructure and technology" and content.
Perhaps the biggest reason Schmidt cited for Google's lack of interest in getting deeper into news content production: the financial headaches the company would inherit, thanks to a decaying print business model.
Schmidt's admission isn't stopping media watchers from trying to parse Google's ultimate news strategy going forward. Would buying a newspaper be a good idea for Google and a good thing for journalism in general? What kinds of innovations could the No. 1 search engine in the world bring to news content production, distribution and — most importantly — financial stability?
Whither Google News?
In the interview, Schmidt addressed the brewing fight with news organizations like the Associated Press over Google's news aggregation service. He maintained that sending traffic to member news sites helps those companies.
Schmidt also referred to recent speculation that Google might try to run a newspaper as a nonprofit organization, but shot down the idea of a news project becoming part of the Google Foundation.
In any case, he said, the foundation was busy with other things — and he noted that some of the suggestions put forth — though "clever ideas" — were unlikely to come to pass in the absence of a long string of major bankruptcies.
For Schmidt, Google's immediate relationship with news providers will likely involve working with newspapers like The Washington Post to better develop their online versions, letting readers go deeper into stories and giving them a mechanism to "remember" what they've read.
Those kinds of discussions offer a lot of promise to analysts like Rich Gordon, associate professor and director of digital innovation at Northwestern University's Medill School of Journalism.
"I actually think that Google's potential role to play here is essentially managing the user experience and the financial transactions associated with a news site that has some free content and some paid content," Gordon told the E-Commerce Times.
"I think that's where this is going. I don't think we know where that line gets drawn, but I will warrant that for some stories, the maximum revenue will be determined by charging for it," he suggested, rather than relying on advertising.
As Schmidt maintained, Google's aggregation service is not one of the root causes of print journalism's current woes, Gordon agreed, but "at the same time, [Google] recognizes that they're potentially part of the solution to the problem.
"I can imagine them buying a newspaper as a demonstration site," he continued, "but more likely, they would partner more effectively. At some point, Google has to put its money where its mouth is. That doesn't necessarily mean buying a newspaper, but it does mean, 'let's test the proposition' — and it's more likely on a partnership basis."
Buying a Newspaper vs. News Organization
Even though Schmidt has said repeatedly that Google is a content platform, not a content provider, creating its own means of news production "would be a really effective mechanism," said David Domke, a journalism professor at the University of Washington.
When Schmidt says his company doesn't want to cross the line between technology and content, "what that says to me is they have built a brand right now in which they help people find things using Google technology — they help people to find information — but they have not provided their own version of that information as yet," Domke told the E-Commerce Times.
"I don't think that's where they're going to end up. I would think they're going to be in the news production business within six months to a year, but I don't think they're going to start [with buying a newspaper]," he continued. "I think they're going to pull together existing entities. Maybe one of those will be a traditional news organization that already exists, and maybe others will be very much online entities" that are more nimble and provide a better fit for the Google identity.
Google can buy a news organization without buying a newspaper, Domke insisted, and it might want to get into news creation or production because competitors like Yahoo News and MSN/MSNBC are already knee-deep in that territory.
"[Google] can get hold of a news organization at a reduced price right now," he pointed out, "and the organization would look at Google and say, 'What an incredible opportunity.'"
Schmidt's admission may also be a ploy to get attention away from its aggregation controversy with the AP, noted Medill's Gordon.
"Maybe Google is worried about the PR impact of all this stuff. They may be worried that the newspaper industry is going to block off content," he mused.
"I take Schmidt at his word," Gordon said. "I think he realizes that journalism is important, and the business model is deteriorating, and he realizes right now, even if Google started writing checks [to news organizations], it's not enough money to solve the problem. I think what he's saying is it's not in Google's interest for there not be any news for them to index."