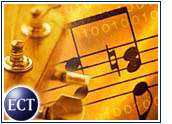 eMusic.com, Inc. (Nasdaq: EMUS) was down3 U.S. cents at 44 cents after the online music company reported a quarterly lossand said it expects $1 million in restructuring costs in the current quarter.
"Despite the well-publicized challenges of the online music and Internetadvertising markets, we continue to believe we are well positioned forlong-term success in both categories," said president and chief executiveofficer Gene Hoffman.
The Redwood City, California-based seller of downloadable music said revenuefor the second quarter ended December 31st rose 65 percent from a yearearlier to $4.7 million. The loss before extraordinary charges totaled$8.7 million, or 21 cents per share, compared with a year-earlier loss of $8.4 million,or 28 cents.
The company posted a net loss of $191 million, or $4.65 per share, aftersome $173 million in charges related to "goodwill, intangibles and musiccontent-related assets." A year earlier, the net loss totaled $14.3 million,or 47 cents per share.
Last month, eMusic announced a reorganization as well as a plan to focus on its twomain businesses, RollingStone.com and downloadable music sales. The plan,designed to save more than $16 million this calendar year, will result inabout $1 million in severance and other charges in the quarter ending March31st, the company said.
Despite the losses and reorganization, eMusic has "one of the strongest brands on the Internet" in Rollingstone.com, and has been able to generate revenuefrom digital downloads through its subscription service, Hoffman said.
Hoffman said that he believes eMusic is "well ahead" of its competitors in the online music subscription business, because of the investment eMusic has made forging relationships with the record labels and the company's "focus on the infrastructure behind paid-for downloads."
"The growth of our subscription base — even in the face of widespread illegal distribution of digital music — bears this out," Hoffman said.
Advertising revenue for the recently completed quarter was flat at $3 million, reflecting an industrywidedownturn in online ad rates, the company said. eMusic said it had about $16 million in cash and short-term investments atquarter's end.