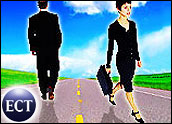 EMI on Friday formally rejected a US$4.1 billion takeover bid from Warner Music Group, in the latest music industry attempt to consolidate the few remaining major labels.
The world's third- and fourth-largest record labels, EMI and Warner flirted with a possible merger for some time. EMI said its board of directors considered Warner's offer to be insufficient.
Consolidation Still Needed
EMI's main objection revolved around the potential of U.S. and European Union (EU) regulators to block the deal. Warner's offer came with the condition that it could be withdrawn if regulators opposed the merger.
"The board concluded that it is not in the best interests of EMI shareholders to entertain a preconditional offer, which would entail prolonged regulatory uncertainty and unacceptable operational risk at a critical time for the company," EMI said in a statement. "EMI remains focused on maximizing the performance of the business."
EMI recently announced it was seeing sharply lower CD sales in the U.S., which seemed to raise the urgency of a merger deal.
In North America alone, CD sales were down 20 percent industrywide for the first two months of the year, according to EMI.
Regulatory Concerns Raised
Regulatory fears have kept EMI and Warner apart in the past and helped keep other music companies from merging, as well. Since 2000, Warner and EMI have exchanged numerous failed offers to buy one another.
If combined, EMI and Warner would own about one quarter of the world's music sales market share, putting it second behind Vivendi's Universal Music Group.
EMI has also rejected an offer from a UK-based private equity firm that hoped to take the company private. The company has taken drastic measures to reverse its sales drop, firing its top two music executives in January after holiday sales did not meet targets.
Warner has not fared much better, saying last month that sales for the fourth quarter were down 13 percent from the year before.
The regulatory environment has not been favorable to this kind of mega-merger. In fact, an EU court has ruled against the merger that created Sony BMG — now the world's second-largest music company — in 2004. The court ruled that EU regulators failed to take into account the impact the merger would have on small, independent music labels.
Wait and See?
EMI's rejection of the Warner offer caught some off guard. A favorable ruling from the EU on Sony BMG may indicate that Warner and EMI could pass muster as well, since it would control a smaller market share overall, said Laura Martin, a music industry analyst with Soleil Securities.
Still, EMI may have felt that prolonging any deliberations over the deal would distract from its mission of adapting to emerging digital music opportunities. In a November quarterly report, EMI said that digital music revenues were up 68 percent, despite a double-digit drop in overall sales.
Today, EMI is "in the midst of a major strategic repositioning and in search of building a more secure future," JupiterResearch Analyst Mark Mulligan told the E-Commerce Times.
A merger could be a significant boost in that regard, but the European court ruling against Sony BMG obviously weighs heavily on EMI's thinking, he added.
Though Warner has said it would make accommodations for independent music labels in any deal, regulators would have the final say as to whether those concessions were adequate, and that could tie up the companies for some time.
"It is far from guaranteed that any deal would go through," Mulligan said.